Creamy Coconut Old Fashioned Oats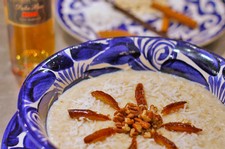 Recipe Date:
January 1, 2015
Measurements:
Imperial (US)
Ingredients
2 cups old fashioned raw oats
1 cinnamon stick
1/2 vanilla bean
3 cups water
4 cups milk
2 cups coconut milk
1 cup shredded unsweetened coconut
1/4 cup turbinado raw cane sugar or more to your taste
chopped pecans and dates, sliced bananas and berries
Directions
In a heavy 3-quart sauce pan bring water to a boil and add oats, cinnamon stick and vanilla bean. Reduce heat and simmer stirring frequently until all water has been absorbed – about 5 to 10 minutes. Add milk, coconut milk and sugar – stir. Bring to a gentle simmer and simmer for 15 to 20 minutes until creamy while stirring continually. Serve on bowl and garnish with your favorite toppings!