Dolmas (Stuffed Grape Leaves)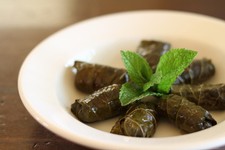 Recipe Date:
January 1, 2015
Measurements:
Imperial (US)
Ingredients
1/2 cup olive oil
1 onion, minced
1 1/2 cups cup uncooked long-grain white rice
2 tbsps tomato paste
1/2 cup fresh mint leaves, chopped
4 cups chicken broth
1/3 cup fresh lime juice
grape leaves, drained and rinsed
2 cups hot water
salt to taste
Directions
In a large saucepan over medium-high heat, sauté the rice for about 3 minutes in 1/4 cup of olive oil. Add the minced onion and cook for 1 more minute. Pour in 2 cups of hot water, salt to taste and reduce heat to low. Cover saucepan and simmer until all the water has been absorbed for another 10 minutes, or until rice is half cooked. Remove from heat and transfer to a glass bowl and stir in tomato paste, lemon juice and chopped fresh mint leaves. Mix these ingredients well. Let mixture cool for about 15 minutes.

If using store bought leaves, take one leaf, shiny side down, and place 1 teaspoon of the rice mixture at the bottom end of the leaf. Fold both sides of the leaf towards the center, roll up from the broad bottom to the top and place into the pot. Repeat with all leaves. Ensure that there are no gaps when placing the dolmas in the pot to prevent them from opening while cooking. Sprinkle with remaining olive oil.

Pour chicken broth to cover all dolmas. Cover pot and bring to a gentle boil then simmer for about 1 hour (the stuffing must not burst out of the leaves). Remove from heat, remove cover and let cool for 30 minutes. Transfer to serving dish and serve.

Chef's Tip
If using fresh grape leaves, cut stem off and plunge the leaves into a deep pot of very hot water for about 1 minute to soften. Ensure that the leaves do not lose their fresh green color.