Guacamole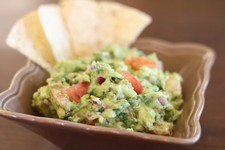 Recipe Date:
January 1, 2015
Measurements:
Imperial (US)
Ingredients
5 avocados
4 roma tomatoes, chopped
1/2 bunch cilantro, chopped
1/2 red onion, chopped
1 serrano chile, finely chopped
2 pickled jalapeno chiles, finely chopped
lime juice from two limes
1/4 cup jalapeno juice
salt and pepper to taste
Directions
Cut avocado lengthwise and take out pit. Spoon avocado into a bowl. Squeeze some lime juice on top of avocado so that they won't brown. Finely chop all of the ingredients and add them to the bowl. Don't mix ingredients until you are ready to serve. Add salt and pepper to taste and serve with chips or tostadas.
The key to making a well-rounded guacamole is having the perfect amount of acidity, spiciness and texture. I don't know about you but I like my guacamole fully loaded with red onions, cilantro, tomatoes, jalapenos and more! Having grown up in a Mexican household, I consider myself a guacamole enthusiast and find any excuse to make a batch and enjoy it with a nice cold beer or glass of wine.