Homemade Granola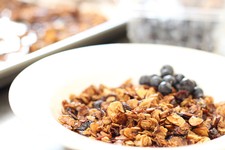 Recipe Date:
January 1, 2015
Measurements:
Imperial (US)
Ingredients
2 cups old-fashioned oats
1/2 cup dried cranberries
1 cup sliced almonds
1 tsp ground cinnamon
1/4 tsp salt
4 tbsps (1/2 stick) unsalted butter
1/4 cup lightly packed brown sugar
1/4 cup honey, plus more for serving
1 tsp pure vanilla extract
Mixed berries for serving
Directions
In a large bowl, thoroughly mix oats, dried cranberries, sliced almonds, cinnamon and salt. Set the dry ingredients aside. Add butter to a saucepan and melt on low heat. Once butter is melted, add in brown sugar, honey and vanilla extract. Stir well for two minutes. Pour wet ingredients over dry ingredients and mix well. Spread granola onto a baking sheet that has been sprayed with a nonstick cooking spray and press granola down with a spatula. Preheat oven to 375 degrees F. Bake granola for 20 minutes. Once out of the oven allow granola to cool and then break into small pieces. Add granola to yogurt and fresh berries, enjoy as cereal or simply devour as a tasty snack!