Lemon Spaghetti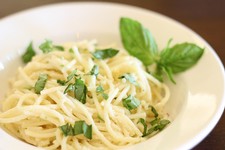 Recipe Date:
January 1, 2015
Measurements:
Imperial (US)
Ingredients
1 lb spaghetti
2/3 cup olive oil
2/3 cup grated Parmesan
1/2 serrano chile, minced
Dash of chili flakes
1 tbsp crushed garlic
1/2 cup fresh lemon juice
Salt and black pepper to taste
1 tsp lemon zest
1/3 cup fresh basil leaves, chopped
Directions
Cook the pasta in salted water for 8 to 10 minutes, stirring occasionally. Drain the pasta, reserving 1/2 cup of the cooking liquid. In a large bowl, mix the olive oil, Serrano chile, chili flakes, Parmesan cheese and lemon juice. Toss in the pasta and reserved cooking liquid until it is coated thoroughly. Add salt and pepper to taste. Plate the pasta and garnish with lemon zest and freshly chopped basil.
Inspired by a simple yet delicious Giada De Laurentiis recipe, I spice up lemon spaghetti with serrano chile and chile flakes. This is the perfect summer pasta that is wonderful on its own but can also accompany grilled chicken or prawns. Don't forget to pair your favorite wine with this zesty dish!