Mexican Cornbread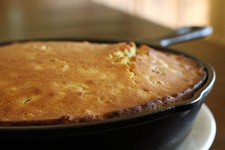 Recipe Date:
January 1, 2015
Measurements:
Imperial (US)
Ingredients
2 ears of corn or 2 cups of frozen and thawed (charred) corn
1/2 stick cold unsalted butter cut into pieces
1/4 cup vegetable oil
3 jalapeños finely diced with some seeds
1 1/4 cups cornmeal (preferably stone-ground not coarse)
1/4 cup all-purpose flour
2 tbsps sugar
1 tsp baking soda
1/2 tsp salt
1 1/2 cups well-shaken buttermilk
2 large eggs
1 tsp bacon lard (optional)
1/2 cup honey
Directions
*Special equipment: a 9 1/2- to 10-inch well-seasoned cast-iron skillet

Heat grill to medium high. Lightly brush corn with oil and grill turning every 3 minutes until charred and golden brown. Cut kernels off cobs. Sauté kernels with chopped jalapeños for 3 minutes with a little bit of olive oil. Set aside. If using frozen corn, make sure corn is properly thawed before sautéing with jalapeños.

Put oven rack in middle position and preheat oven to 450°F. Add butter, lard and oil to skillet and heat in oven until melted (typically 5 minutes), then carefully pour into a medium bowl.

Whisk together cornmeal, flour, sugar, baking soda and salt in a large bowl. Whisk buttermilk, corn/jalapeño mixture and eggs into melted butter and honey, then stir into cornmeal mixture until well mixed. Pour into hot skillet and bake until a wooden pick or skewer inserted in center comes out clean, 18 to 22 minutes. Cool in skillet for 5 minutes then serve.