Mexican Mango Cake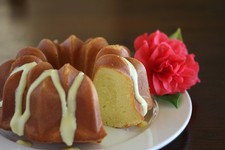 Recipe Date:
January 1, 2015
Measurements:
Imperial (US)
Ingredients
- For Cake
3 cups cake flour
6 large eggs
3 sticks of unsalted butter at room temperature
2 tsps vanilla extract
2 cups granulated sugar
2/3 cup buttermilk
1 tsp salt
1 1/2 tsps baking powder
citrus zest
- For Mango Salsa
2 1/2 cups chopped fresh or frozen and thawed mango
2 1/2 cups granulated sugar
8 ozs cream cheese
2 tbsps water
edible flowers as garnish (optional)
Directions
For Cake
Sift the flour, baking powder and salt into a large bowl. In another large bowl, using an electric mixer, beat the butter and sugar until light and fluffy. Add the eggs, beating well after each addition then mix in vanilla extract, buttermilk and citrus zest. Then add dry ingredients and continue mixing.

Pour batter into a cake pan. Bake for 45 to 50 minutes at 350 degrees F. Remove cake pan from oven and place on a wire rack and allow cake to cool completely. Invert cake onto a platter or serving tray.

For Mango Salsa
Combine the mango, water, sugar and cream cheese in a blender or food processor and mix until smooth. Add extra water if necessary. Pour the mango salsa evenly over the cake and feel free to decorate with edible flowers.