Roasted Beet Salad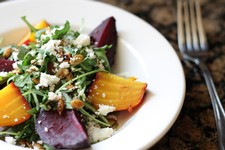 Recipe Date:
January 1, 2015
Measurements:
Imperial (US)
Ingredients
10 small beets ( have fun and mix different beets for a burst of color)
crumbled Cotija cheese
3 tbsp Balsamic vinegar
2 cups baby arugula
1/3 cup cayenne toasted pumpkin seeds
olive oil
salt and pepper to taste
cayenne Pepper (as needed)
10 small pieces of tin foil
Directions
Heat the oven to 375 degrees F. Rinse the beets in water and cut the stems and base off. Place beets in a bowl and toss with one teaspoon olive oil, one teaspoon cayenne pepper and salt. Next, wrap each beet in a piece of tin foil. When all the beets are wrapped, place them in a pan or sheet tray and roast in the oven for 45 minutes or until beets are cooked through. When the beets are cooled, unwrap, peel and cut into quarters.

Mix pumpkin seeds, one teaspoon of olive oil and a pinch of cayenne pepper and toast in a small pan at medium-high heat.

For Dressing
Whisk together Balsamic vinegar, two tablespoons of olive oil and salt and pepper to taste.

In a bowl, combine the beet sections with some of the dressing. In a separate bowl, combine the arugula with some of the dressing as well. To assemble, place a bed of arugula on a plate. Next, add six roasted beet pieces and garnish with toasted pumpkin seeds, Cotija cheese and drizzle with additional dressing.