Seared Ahi Tuna and Avocado Tartare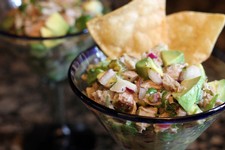 Recipe Date:
January 1, 2015
Measurements:
Imperial (US)
Ingredients
1 8-ounce ahi tuna steak
4 tbsp extra-virgin olive oil
1 avocado, peeled, pitted, diced
2 Serrano chiles, minced
1/3 cup fresh cilantro, chopped
1/3 cup red onion, chopped
1 tsp fresh grated ginger
1 tbsp soy sauce
1/4 cup lime juice
2 tsp fresh oregano, chopped
salt and white pepper to taste
Directions
Heat 1/2 tablespoon of oil in a heavy small skillet over high heat for 2 minutes. Brush tuna with 1/2 tablespoon olive oil; sprinkle with salt and pepper. Place in skillet and sear until slightly brown outside and almost opaque in center, about 2 minutes per side. Cool tuna; dice finely. Combine tuna, remaining 3 tablespoons of oil and all remaining ingredients in medium bowl. Using a fork, mix gently and evenly. Season tartare to taste with salt and pepper and chill. Serve with chips or over a small corn tostada.