Spicy Cauliflower Soup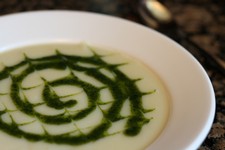 Recipe Date:
January 1, 2015
Measurements:
Imperial (US)
Ingredients
1 cauliflower rinsed and cut into flowerets
4 leeks rinsed and thinly sliced crosswise
1 chopped yellow onion
2 medium-sized potatoes peeled and cut in quarters
1 serrano pepper finely chopped
6 garlic cloves finely chopped
3 tbsp extra virgin olive oil
10 cups chicken broth
4 tbsp chives finely chopped
4 tbsp cilantro finely chopped
Salt and white pepper to taste
Directions
Heat oil in large saucepan and sauté leeks, onion, serrano pepper and chopped garlic and cook until translucent (about 8 minutes). Add cauliflower florets, quartered potatoes and chicken broth and bring to a boil. Reduce heat, cover saucepan and simmer for 20 minutes or until potatoes and cauliflower are tender.

In a blender, process cauliflower mixture until smooth and creamy and return it to saucepan. Stirring frequently, simmer for 15 minutes until desired thickness. Add more chicken broth if too thick. Add salt and pepper to taste. Serve immediately. Feel free to garnish with Dungeness crab, lobster, shrimp or seared scallops and finely chopped chives and cilantro. Serve with crusty sourdough bread.