Spicy Chipotle Potato Salad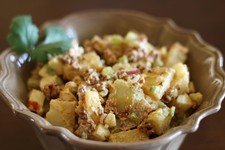 Recipe Date:
January 1, 2015
Measurements:
Imperial (US)
Ingredients
15 small red potatoes (cut into 1-inch cubes after being boiled)
1 cup sour cream
1/2 cup plain yogurt
1/2 cup cooked longaniza
2 tbsp spicy mustard
2 canned chipotle chiles
1 red onion, chopped
2 tbsp white vinegar
1 jalapeño pepper
3 long sticks of celery
1 tsp freshly ground pepper
1 tsp salt
5 hard-boiled eggs, cut into cubes
1 shallot, minced
1 tbsp lemon juice
chives or chopped green onions as a garnish
Directions
Fill a pot with water and add salt and potatoes. Bring to a boil and cook potatoes for about 15 minutes or until tender. Drain and cool. Boil eggs for 5 to 7 minutes. Drain and let cool. Once cool, cube the eggs and discard half of the yolk. Set cubed eggs aside. In a sauté pan, cut the longaniza link until it is nice and crumbled. Cook until tender yet crispy on the edges. Once longaniza is done cooking, place it on top of paper napkins and set aside. Finely chop the onion, chipotle chiles, jalapeño, celery sticks and shallot.
In a large mixing bowl, first combine and mix sour cream, yogurt, chipotle peppers, jalapeño, spicy mustard, olive oil, lemon juice, salt and pepper. Mix until all ingredients are fully incorporated then stir in the rest of the chopped items. Garnish with chopped chives or green onions. Cover and refrigerate until needed.