Steamed Dungeness Crab in a Spicy Indonesian Sauce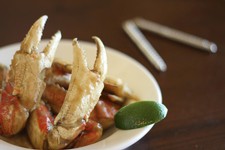 Recipe Date:
January 1, 2015
Measurements:
Imperial (US)
Ingredients
4 crabs separated, cleaned, and cracked
- For Crab Reduction Broth
8 to 12 small crab legs
8 whole garlic cloves
1/2 a red onion
2 stalks of celery cut in half
5 cups of water
2 bay leafs
salt to taste
- For Tamarind Salsa
2 tamarind pods
1 coarsely chopped white onion
2 tbsp minced Serrano peppers
2 tbsp minced garlic cloves
2 tbsp minced fresh ginger
2 tbsp soy sauce
2 tbsp corn starch
2 tbsp olive oil
salt and pepper to taste
Directions
For Crab Reduction Broth
In a saucepan, add in small crab legs (8 to 12) with 8 whole cloves of garlic, 1/2 an onion, 2 stalks of celery cut in half, 5 cups of water, 2 bay leafs and a few pinches of salt. Gently simmer until the liquid is reduced to 2 cups.

For the Tamarind Salsa
Peel the tamarind's shell and soak in water. Discard seeds and just keep the pulp. Set aside.

Sauté chopped white onion, minced Serrano peppers, minced garlic, minced ginger and salt and pepper to taste in two tablespoons of olive oil for 10 minutes. Add in the crab reduction broth and soy sauce and simmer for another 5 to 10 minutes.

In a blender or food processor, combine the sautéed ingredients/crab broth mixture and tamarind pulp. Process until smooth. Return the processed Indonesian sauce back to the pan and bring gently to a boil. In a small bowl, combine cornstarch with water and slowly add this mixture to Indonesian sauce while stirring. Simmer for 5 minutes until slightly thickened.

Steam the cracked crab pieces for five minutes then place in a large bowl. Pour in the Indonesian sauce and coat well. Serve immediately. Make sure you have a bib and lots of napkins.