Succotash of Summer Squash and Corn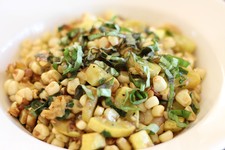 Recipe Date:
January 1, 2015
Measurements:
Imperial (US)
Ingredients
2 tbsp unsalted butter, or more to taste
4 small summer squash, such as yellow crookneck, diced
Kernels from 4 ears of corn
1 diced small sweet onion
2 minced garlic cloves
1 chopped fire roasted serrano pepper
1/4 cup chopped basil
1/4 cup chopped cilantro
Salt and pepper to taste
Directions
Heat 2 tablespoons of butter in a medium saute pan. When melted, add onion and sauté for 3 minutes. Add garlic and roasted serrano pepper and cook for two more minutes. Add squash, corn, and season with salt and pepper to taste – cover until squash and corn are tender, about 7 to 10 minutes (stirring occasionally). Sprinkle with fresh basil and cilantro. Stir well and serve.
Soft-skinned summer squash has an edible rind with a sweet, mild taste that is perfectly accentuated with a little butter in this succotash recipe. Look for summer squash at your local farmer's market. If you can't find summer squash, substitute green or yellow zucchini.