Tomatillo Salsa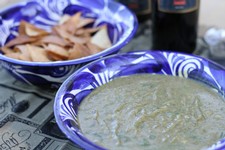 Recipe Date:
January 1, 2015
Measurements:
Imperial (US)
Ingredients
2 pounds fresh tomatillos
2 - 4 Serrano peppers (depending on your spiciness preference)
2 garlic cloves
1 cup chopped cilantro
1 cup chopped white onion
salt
Directions
Remove the tomatillos' husks and rinse the tomatillos in water. Grill or roast the tomatillos and peppers until the skins are scorched but not burnt. Do not peel the skins. In a blender or food processor, combine the tomatillos, garlic, salt-to-taste and process until semi-smooth but be sure not to completely liquefy the salsa. Pour the salsa into a bowl and add a bit of water and stir if salsa is too thick to your liking. Mix in freshly chopped cilantro, white onion and salt as needed (Cilantro and onion can also be added during the blending process depending on your preference).
I've been making this salsa for years and it's easily my favorite one using tomatillos. The bright and slightly tangy characteristics of the tomatillo provides a unique flavor profile, particularly when they are charred, and serve as a great substitution to traditional tomato-based salsas. Add this tomatillo salsa to carne asada, seafood, soups or simply enjoy with homemade chips. It's fiesta time!