Tortilla Soup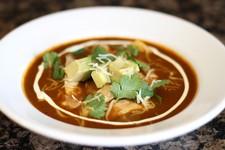 Recipe Date:
January 1, 2015
Measurements:
Imperial (US)
Ingredients
1 large dried pasilla (negro) chile stemmed and seeded
1 15oz can diced tomatoes in juice (preferably fire-roasted)
2 tbsp vegetable or olive oil
1 medium white onion sliced 1/4-inch thick
5 garlic cloves peeled and diced
8 cups chicken broth
1 chipotle canned chile
1 ripe avocado
shredded Mexican cheese or queso fresco
1 lime
1/2 bunch of cilantro chopped
1 cup broken tortilla chips
Mexican crema or creme fraîche for garnish
epazote sprigs (optional)
Directions
Heat a few tablespoons of vegetable or olive oil in a medium (4-quart) saucepan over medium-high. Add the onion, garlic and chipotle pepper and cook, stirring frequently, until onions become translucent. Remove the contents of the pan and place into a blender along with the canned tomatoes and its juice. Add the roasted pasilla chile to the blender (Roast the pasilla chile by turning it over an open flame until its aromas fill the kitchen. If you don't have access to an open flame, toast the pasilla chile on a dry pan over medium heat, pressing it flat for a few seconds then flipping it over and pressing it again). Process all ingredients until pureéd.

Return pan to medium-high heat. When hot, add the pureé and stir constantly until thickened to the consistency of tomato paste (about 6 minutes). Add in chicken broth and epazote sprig (optional). Reduce heat to medium-low and simmer for 15 minutes. Taste and season with salt.

Serve soup in bowls and garnish with avocado slices, cheese, tortilla chips, crema, cilantro and fresh squeezed lime juice.

Chef's Tip
Feel free to incorporate two boneless skinless chicken breasts (shredded) by adding to the pot when chicken stock is poured in.
Tortilla soup or Sopa Azteca as it is also known, gets its name from the thin strips of fried tortillas strips that are added just before it's served. Traditionally, soups in Mexico have been used by the masses as a way to stretch an ingredient as far as possible. Sopa Azteca, it is believed, was created at least partially as a way to use up leftover stale tortillas.