Albondigas en Salsa Roja (Mexican Meatballs in a Spicy Red Salsa)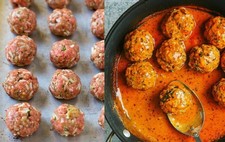 Recipe Date:
September 22, 2020
Measurements:
Imperial (US)
In Spain and Latin America, meatballs are called albondigas, derived from the Arabic al-bunduq (meaning hazelnut, or a small round object). The Arabs brought a version of this dish to Spain, and it eventually became popular in kitchens in Mexico and Latin America. Mint is often found in Mexican versions and it adds an intriguing light element to the dish.
Mexican albondigas are commonly served in a soup with a light broth and vegetables or in a spicy red salsa to use as a filling for tacos! I love both versions -- they're the definition of comfort food -- but today is the beginning of the fall equinox, and I'm in the mood for the richer spicier recipe to pair with our Cabernet Sauvignon inspired red wine blends.
Ingredients
For Red Salsa
8 Roma tomatoes, cut in quarters
3 guajillo peppers, deveined and deseeded
2 jalapeno peppers, cut in half
2 serrano peppers, cut in half
6 garlic cloves
1/2 small onion, cut in two pieces
1/2 onion, medium diced
6 whole cloves
pinch of cumin
pinch of Mexican oregano
salt and pepper to taste
water (beef broth optional)
2 tablespoons olive oil
For Meatballs
2 lbs ground beef or a favorite combination of pork or lamb
1/2 cup uncooked rice
1/2 cup chopped fresh mint leaves
1/2 small onion, shredded
6 garlic cloves, minced
2 eggs
1 tsp Mexican oregano
1 tbsp flour
salt and pepper
Directions
For Red Salsa
Place tomatoes, guajillo, jalapeño and serrano peppers, 1/2 onion and garlic cloves in a medium stock pot with enough water (or beef broth) to cover all the ingredients. Bring to a boil and reduce heat and simmer for 10 minutes.
Process all cooked ingredients in a blender with the whole cloves, pinch of cumin and oregano, and salt and pepper to taste until smooth.
Heat a large skillet over medium heat and add 2 tablespoons of olive oil and diced onion and a pinch of salt and pepper -- stir and cook until translucent, about 3 minutes. Add processed salsa ingredients and bring to a boil. Reduce heat and simmer and add more water or beef broth to achieve the preferred consistency.
For Meatballs
Place all the meatball ingredients in a large mixing bowl, and combine the mixture well then using your hands to form meatballs that are around one inch wide or slightly larger.
Place the meatballs in the pot with the simmering red salsa and add more water or stock to just cover the meatballs. Bring to a boil again, reduce heat to simmer and cover pot until meatballs are plump and tender -- 30 to 45 minutes. Once the rice in the meatballs is cooked, it increases the size of the original meatball and adds a creamy texture.
Serve albondigas in a bowl with some of the rich salsa roja and garnish with finely chopped cilantro. Heat corn tortillas and make delicious tacos to pair with our exceptional red wine blends.