Arroz con Leche (Rice Pudding)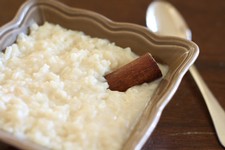 Recipe Date:
January 1, 2015
Measurements:
Imperial (US)
Ingredients
1 cup long grain white rice
2 cups water
3 cups milk
1/3 cup sugar
1 cinnamon stick
Directions
Place the water, rice and the cinnamon stick in a medium size pot and bring to a boil -- reduce heat, cover and simmer for 20 minutes or until all the liquid has been absorbed.
Add the milk and sugar and bring gently to a boil again. Reduce heat, simmer uncovered and stir continually until creamy for about 15 minutes. Can be served hot or cold for breakfast or dessert.
Rice puddings are found in nearly every area of the world. Recipes can greatly vary even within a single country. The dish can be boiled or baked. Different types of pudding vary depending on preparation methods and the ingredients selected. When used as a dessert, it is commonly combined with a sweetener.