Barbacoa Beef Cheek Tacos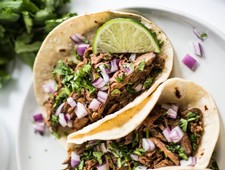 Recipe Date:
August 3, 2020
Measurements:
Imperial (US)
Barbacoa is a form of cooking meat that originated in the Caribbean with the Taíno people, from which the term "barbecue" derives.
In contemporary Mexico, it refers to meats slow-cooked with seasonings over an open fire or fire pit and typically shredded as a filling for tacos. In the present day, the same result can be achieved by either cooking the meat on the stove top or in the oven for two to three hours.
Beef barbacoa can either be made with one type of meat or with a combination of several cuts like beef cheeks, beef shanks or short ribs. However, using only beef cheeks for this barbacoa recipe and served with addictive pickled onions and an avocado slice makes an absolutely scrumptious dish. The preparation is easy and the results are marvelous.
Ingredients
For Barbacoa Beef Cheeks
2 1/2 beef cheeks
3 guajillo chilies cleaned, deseeded and deveined
1 ancho chili cleaned, deseeded and deveined
4 garlic cloves
1 tsp Mexican oregano
1/2 tsp ground cumin
1 tsp whole peppercorns
1/2 white onion, thinly sliced
2 bay leaves
1 to 2 cups chicken or beef broth
2 limes
salt to taste
1 avocado, cut in slices
corn tortillas
fresh cilantro, chopped
For Pickled Onions
1 red onion
1 tbsp salt
2 tbsps sugar
1 handful cilantro
2 parts cider vinegar
1 part water
Directions
For Barbacoa Beef Cheeks
Place the peppers in a medium saucepan and cover with water. Cook over medium heat for 15 minutes or until softened. Place the cooked peppers in a blender with the garlic, oregano, cumin, peppercorns and salt. Process with a cup of the cooking liquid to a smooth paste.
Next, clean and trim the excess fat from the meat and place in a dutch oven with the onion and the bay leaves. Pour the sauce, 1 to 2 cups of chicken or beef stock and the juice of 2 limes. Bake on a 275 preheated oven for 3 hours or until fork-tender. Turn the meat over once or twice while it cooks, and if the liquid dries up, add more broth.
When done, take the dutch pan out of the oven. Using 2 forks, pull the meat apart in the pan so that it combines with all of that juicy goodness.
Warm corn tortillas and fill each one with barbacoa, an avocado slice, some pickled onions and fresh cilantro. Serve and enjoy with a glass or two of our excellent Ceja wines.
For Pickled Onions
Slice the onions thinly in half moons and put them in a microwaveable glass container. Add the cilantro, salt and sugar. Cover everything with 2 parts cider vinegar and 1 part water. Microwave for 1 minute, stir, and microwave for another minute. Cool, then refrigerate.