Bean, Radish and Cheese Tostadas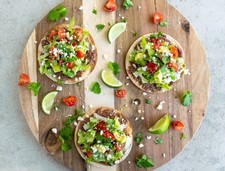 Recipe Date:
July 2, 2020
Measurements:
Imperial (US)
From Frida's Fiestas Cookbook by Guadalupe Rivera and Marie-Pierre Colle
Adapted by Amelia Morán Ceja
Frida. Artist. Mystery. Magic. Mexico.
Frida was an enthusiast, and every occasion was cause for rejoicing. She celebrated birthdays, saints days, baptisms and all the popular holidays. She had little money, and often she spent the payment she received for a painting on elaborate dinner parties. She had as much fun designing the menu as drawing up the guest list.
In 2004, Ceja Vineyards and I were invited to participate in Macy's San Francisco 58th Annual Flower Show - Colores de Mexico. I did numerous cooking demonstrations, and for the grand finale event, I was asked to prepare three recipes from Frida's Fiestas and paired them with our stellar wines. Frida's stepdaughter Guadalupe Rivera (Diego Rivera's daughter) was present as well and it was a great success!
Ingredients
5 cups cooked black beans, drained
1 cup radishes, diced medium
3/4 lb panela cheese or queso fresco, cut in cubes
1/2 cup cilantro, chopped
1 serrano pepper, minced
1/2 cup olive oil
1/4 cup red wine vinegar
3 tbsps pickled jalapeño vinegar
juice of one lime
salt and pepper
small corn tostadas
Directions
Drained and rinsed canned black beans can be used. In a bowl, gently combine beans, radishes, panela cheese, cilantro, and serrano pepper.
In a small bowl, whisk together olive oil, red wine vinegar, pickled jalapeño vinegar and lime juice. Add to bean mixture and add salt and pepper to taste.
Top tostadas with four heaping tablespoons of bean mixture and serve with a favorite salsa!