Black Bean & Butternut Squash Chili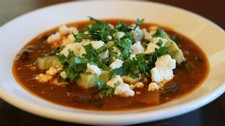 Recipe Date:
February 14, 2017
Measurements:
Imperial (US)
This thick, satisfying chili is a year-round favorite around our house. Incorporating a native American flair with beans and squash, this tasty and spicy recipe can also be made vegetarian by substituting the chicken stock with vegetable stock. Don't forget to pair this dish with a bottle of Ceja Vineyards Cabernet Sauvignon!
Ingredients
6 cups cooked black beans, drained and rinsed
4 cups butternut squash, cubed
4 cups crimini mushrooms, sliced
4 cups baby spinach, prewashed
1 yellow onion, diced
1 large carrot, finely diced
1 large celery sprig, finely diced
4 cups diced canned tomatoes
1 fresh jalapeño pepper, fire roasted
4 cups chicken stock
1 pasilla pepper, deveined, deseeded and soaked in warm water
1 guajillo peppers, deveined, deseeded and soaked in warm water
6 garlic cloves, minced
10 whole peppercorns
4 cloves
4 tbsps tablespoons olive oil, divided
1/4 cup cabernet sauvignon
salt and pepper
corn tortillas (optional)
Directions
Heat 3 tablespoons of oil in a medium pot over medium heat. Add the onion, carrot and celery and a pinch of salt and pepper and cook until soft, 5 to 8 minutes. Add the remaining 1 tablespoon of olive oil, stir in the minced garlic and cook for 30 seconds, until fragrant. Add the mushrooms and a pinch of salt and pepper and cook for 5 minutes. Stir in the butternut squash and cook until the vegetables just start to become tender, 10 to 15 minutes.
Using tongs, place the jalapeño pepper on top of a burner over high heat. Turn until all sides are charred. In a stock pot, place 4 cups of chicken stock, the pasilla and guajillo peppers and bring to a simmer, cook for five minutes. If a gas stove is not available, cook the jalapeño pepper with the pasilla and guajillo peppers and remove the jalapeño pepper once done and set aside.
Place the whole peppercorns, cloves, cooked pasilla and guajillo peppers with the stock in a blender or food processor and process until smooth, add to pot with vegetables. Cut the charred jalapeño pepper in quarters (or use the cooked jalapeño) and place in blender or food processor with the four cups of diced canned tomatoes and coarsely blend, about 5 seconds. Add to pot and stir. Bring to a gentle simmer and cook for 5 to 10 minutes.
Add the 6 cups of cooked black beans and spinach to pot, stir and bring back to a simmer. Cook for 10 minutes. Add ¼ cup Cabernet Sauvignon, taste and adjust the salt. Simmer for 10 to 15 minutes. Serve on a bowl with warm corn tortillas and garnish with the toppings.
Toppings (optional)
Diced Avocado
Crumbled queso fresco
Cilantro, minced
Fresh lime juice
This recipe can be prepared vegan by substituting vegetable stock for the chicken stock and omitting the queso fresco as a topping – it's just as delicious!