Black Bean Soup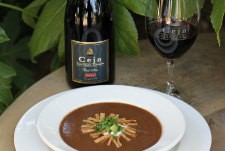 Recipe Date:
January 1, 2015
Measurements:
Imperial (US)
During fall, this easy autumn soup will warm you up with minimal time in the kitchen. My black bean soup is hearty, satisfying, and loaded with flavor. This dish pairs perfectly with our Pinot Noirs and red blends.
Ingredients
1/4 cup + 2 tablespoons extra light olive oil (or canola oil)
1 medium white onion, diced
2 small Roma tomatoes, diced
1 small chipotle pepper in adobo sauce, minced
1 small guajillo, rinsed, deseeded and cut in small pieces
3 cloves garlic, minced
2 cups cups chicken broth
pinch of dried oregano
pinch of ground cumin
1/2 tsp ground black pepper
salt to taste
2 (15.5 ounce) cans black beans, rinsed and drained
2 cups of water
2 white corn tortillas cut in small slivers for garnish
- For Garnish
fried tortilla slivers
cilantro, minced
queso fresco, diced
avocado, diced
fresh lime juice (a squeeze)
Directions
Heat 2 tablespoons of olive oil in medium stock pot and stir in onion; cook and stir for 5 minutes, until the onion turns translucent and golden. Add diced tomato and stir for 5 minutes. Stir pasilla pepper pieces; cook for 2 minutes. Stir in garlic and chipotle pepper; cook for 2 minutes.
Add chicken stock, turn heat to medium-high. Stir in oregano, black pepper, cumin and salt. Add black beans and water. Return to a simmer. Simmer on medium-low, stirring occasionally, for 15 minutes.
Meantime, heat ¼ cup light olive oil in a small frying pan and fry tortilla slivers until golden. Remove and drain on paper towels.
Process bean mixture in food processor or blender until creamy. Return back to stock pot and add more water if too thick. Adjust salt to taste and simmer for 5 more minutes.
Serve garnished with tortilla slivers, minced cilantro, diced queso fresco, diced avocado and a squeeze of fresh lime. It can be enjoyed with warm corn tortillas too! It's the perfect fall and winter comfort food paired with Ceja wines!
Note: Recipe can be prepared vegan by substituting vegetable stock or water for the chicken broth and omitting the queso fresco – it's just as silky and delicious!