Buñuelos with Piloncillo Syrup and Atole de Coco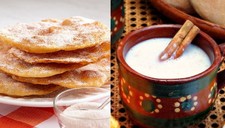 Recipe Date:
December 22, 2020
Measurements:
Imperial (US)
Las Posadas are a yearly Christmas tradition that is celebrated throughout Mexico from December 16, to December 24.
Las Posadas means inns or lodgings and the reenactment is a procession behind Mary riding on a donkey and Joseph guiding her while seeking shelter in Bethlehem before the birth of their son Jesus. It lasts nine days, to signify the nine months of pregnancy.
The participants go from house to house (typically predetermined) and sing hymns in Spanish, asking for shelter. The nightly events are like a nine-day tantalizing frenzy of some of the best Mexican cuisine. When the travelers are finally allowed in each night, they gather around the nativity to pray before sharing a feast of traditional dishes like tamales, pozole, buñuelos, atole and café de olla.
A beautifully decorated piñata filled with seasonal fruits and candies comes next, and children and adults alike take turns at striking it until it breaks and all the goodies spill out.
This beautiful Mexican tradition is celebrated by Catholics and non Catholics alike bringing family and friends together to share holiday cheer and goodwill.
When our children were young, we hosted a posada starting at my mother-in-law mamá Juanita's house and ending at our home. Afterwards, we enjoyed delicious buñuelos sprinkled with sugar and cinnamon, or drizzled with piloncillo syrup, or warm and gooey cooked in piloncillo syrup paired with atole de coco and a glass or two of excellent vino.
Ingredients
For Buñuelos
4 cups all-purpose flour, sifted
2 cups water
4 tomatillo husks, washed
1 tsp salt
For Piloncillo Syrup
4 piloncillo pieces (solid unrefined pure cane sugar)
1 cinnamon stick, large
3 water
For Atole de Coco
10 cups milk
1 cinnamon stick, large
1/2 cup flour, dissolved in milk
2 cups shredded coconut
sugar
Directions
For Buñuelos
In a saucepan, bring 2 cups of water with 4 cleaned tomatillo husks to a boil, and simmer for 10 minutes. Remove from heat and cool until warm.
Place 4 cups of flour and 1 teaspoon salt in a large glass bowl and make a well. Add the warm tomatillo husk water a little at a time while mixing with your hands. Once flour is sticky, knead and add more flour as needed until the dough is smooth and elastic but not sticky. Shape into a ball and cover with a moist towel for 15 minutes.
Place on a kneading surface, and cut into small pieces and form into balls and let them rest covered with a moist towel for 15 minutes.
Flatten each ball with a rolling pin, then finish with your hands by pulling the tortilla-like disc until almost transparent.
On the stovetop, heat to medium a comal or skillet and place the tortilla-like disc flat on it and cook for 30 - 60 seconds per side. Remove and set aside and repeat with all the dough balls until finished.
In a frying pan, heat to high enough olive oil (or oil of your choice) to cover the tortilla-like disc and fry until golden on both sides (20 to 40 seconds per side). Remove and set aside.
For Piloncillo Syrup
In a saucepan, place 3 cups of water, 4 piloncillo pieces and cinnamon stick and bring to a boil. Reduce heat to simmer and cook until thick and syrupy. Set aside to cool.
For Atole de Coco
In a heavy medium saucepan, bring the 8 - 10 cups of milk with a large stick of cinnamon to a boil and reduce heat. Simmer for 10 minutes.
Dissolve 1/2 cup of flour in milk and add slowly to the simmering milk while stirring. Add only enough until the desired thickness. Continue stirring for about 1 hour and do not allow flour to form lumps.
Place 2 cups of shredded coconut in a food processor with enough milk to cover coconut and process until smooth. Add to the milk mixture and bring to a gentle simmer. Taste and adjust sweetness -- add additional sugar if needed. Simmer for 5 minutes. Done!
To Serve Buñuelos
Place one on a dinner plate and sprinkle with granulated sugar and ground cinnamon. Or, drizzle with piloncillo syrup. Or, for warm buñuelos, bring the syrup back to a simmer and break buñuelos in large pieces and cook in the heated syrup until moist and gooey and serve in a bowl.
They're delicious either way served with a cup of atole de coco. And paired with a glass of our exquisite Ceja Vineyards Dulce Beso and Dulce Amor wines, buñuelos will become a family Christmas tradition. Felices fiestas!