Korean Short Rib Tacos with Kogi Salsa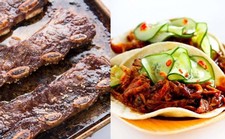 Recipe Date:
October 27, 2020
Measurements:
Imperial (US)
Korean tacos are a Korean-Mexican fusion dish popular in a number of urban areas in the United States and Canada.
Korean tacos originated in Los Angeles as street food, consisting of Korean-style fillings served on top of small Mexican corn tortillas.
Kogi Korean BBQ food truck launched in 2008 and the popularity of this dish is traced to the use of Twitter and YouTube to broadcast information about the truck's location, schedule, itinerary and menu.
Kogi is not just any food truck. Chef Roy Choi and his partners have gained prominence as the creators of the gourmet Korean-Mexican taco truck movement and there's no going back.
I agree with writer David Farley when he says, "Picture, if you will, the Korean taco: pork or beef short rib, barbecued in the Korean manner, mixed with butter-sautéed kimchi, chilies and an elixir of soy sauce, garlic and lime, all stacked on a corn tortilla. It's Mexico City meets Seoul and it's one of the most transcendent things you'll ever eat."
And paired with Ceja Vineyards Cabernet Sauvignon, it's a sublime experience.
Ingredients
3 lbs flanken-style beef short ribs (cut 1/2 inch thick across the bones)
1 large head butter lettuce, leaves separated
12 corn tortillas
1/2 cup fresh cilantro leaves
For Marinade
1 granny smith apple or Asian pear, cored and cut in quarters
1 small onion, coarsely chopped
6 scallions, coarsely chopped
12 garlic cloves
1 piece fresh ginger, about 2 inches long, peeled and coarsely chopped
1/4 cup toasted sesame seeds
1 cup soy sauce
1/2 cup packed light brown sugar
1/4 cup mirin
1/4 cup Asian rice wine or sherry
2 tbsps toasted sesame oil
1 cup freshly ground black pepper
For Pickled Cucumbers
1 English cucumber, thinly sliced
2 serrano peppers, thinly sliced
2 tbsps unseasoned rice vinegar
1/2 tsp granulated sugar
For Kogi Sauce (See Note*)
1/4 cup gochujang (korean fermented hot pepper paste) or Sambal Oelek
1/4 cup soy sauce
1 fresh lime
3 tbsps granulated sugar
1 tbsp toasted sesame oil
2 tsps unseasoned rice vinegar
Directions
In a food processor combine the garlic, apple, onion and ginger and process until finely chopped. Add the remaining marinade ingredients and process until pureed and well blended.
Place the short ribs in a large glass bowl and pour in the marinade -- mix well and cover with plastic wrap. Marinate at least 3 hours or overnight in the refrigerator.
In a medium bowl mix the pickled cucumber ingredients and stir to combine. Let stand at room temperature for 1 hour.
Whisk the kogi salsa ingredients together and set aside.
Prepare the grill for direct cooking over high heat (450° to 550°F).
Remove the ribs from the bowl and drain -- reserve marinade. Grill the ribs over direct high heat, with the lid closed, until charred, caramelized and cooked to medium rare, 2 to 3 minutes per side, depending on the thickness of the ribs. Remove from the grill and cover with foil and let rest for 5 to 10 minutes. Remove the bones and cut the meat crosswise into thin slices.
Place the excess marinade in a medium saucepan and cook until reduced by half until luscious and thick. I love to brush some of this reduction sauce on the grilled meat before making the tacos.
Arrange a lettuce leaf on a warm corn tortilla. Top with meat, pickled cucumbers, kogi salsa and cilantro. Roll up and enjoy with a glass or two of our perfectly balanced Cabernet Sauvignon.
Note*
Gochujang is a key ingredient in Kogi sauce -- it's like a Korean barbecue sauce because of its spicy-sweet-salty nature and its affinity for charred meat. If you are unable to find gochujang, substitute Sambal Oelek which is found at most supermarkets.