Mussels in Spicy Pinot Noir Broth with Mexican Longaniza (Mexican Sausage)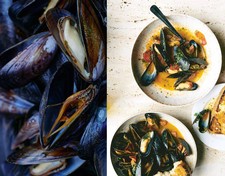 Recipe Date:
February 25, 2022
Measurements:
Imperial (US)
In Mexico, shellfish are called mariscos. They are edible marine animals such as shrimp, clams, crabs, mussels, lobsters, octopus, squid, oysters and other species of mollusks and crustaceans.
Mexico has over 6,000 miles of shoreline on two coasts, and a large amount of fish and shellfish is consumed in the country. Mexican cuisine offers a diverse variety of seafood recipes with multiple methods of preparation such as in cocktails, ceviches, soups, and baked, fried, and grilled dishes.
For this Mussels in Spicy Pinot Noir Broth with Mexican Longaniza recipe, I added a 'sofrito' like flavorful base using garlic, peppers, onions, tomatoes, mushrooms and cilantro. The longaniza and dried chiles add a savory kick and the wine contributes earthy aromatics. The first time I prepared this dish over 20 years ago, it instantly became a family favorite paired with a glass or two of our delicious Pinot Noir.
Ingredients
1 lb Mexican Longaniza or Chorizo, cut in large pieces
5 lbs mussels, well cleaned
1/4 cup olive oil
2 red bell peppers, medium diced
1 sweet Maya onion (or any sweet onion), thinly sliced
2 leeks thinly sliced crosswise
1 lb cremini mushrooms, cleaned and sliced
8 garlic cloves, finely chopped
8 tomatoes, finely diced
1/2 cup cilantro, coarsely chopped
1 Bay leaf
1/2 tsp Mexican oregano
5 dried California chiles
5 dried Ancho chiles
6 garlic cloves
1/4 tsp cloves
4 quarts of chicken broth
1 cup Ceja Pinot Noir
Directions
In a frying pan, crumble and brown the Longaniza for about 10 minutes over medium heat. Drain excess fat and set aside.
Briefly toast the chiles on a skillet or hot pan. Don't burn them – it makes the dish taste bitter. Place toasted chiles in a bowl with 2 cups of chicken stock and let stand until softened. Next, place the chiles with stock in a blender, 6 garlic cloves, and ¼ teaspoon cloves – liquify and set aside.
Add olive oil to a 10 quart pot, sauté the medium diced red bell peppers, onion, leeks, mushrooms and chopped garlic for 5 minutes. Add the diced tomatoes and chopped cilantro and continue cooking for 10 minutes. Add the rest of the chicken broth, the red chile sauce, the Pinot Noir wine, bay leaf and Mexican oregano and bring to a boil – simmer gently for 15 minutes. Add the well cleaned mussels, mix well and turn off the stove. Add the crumbled cooked Longaniza and stir – all mussels should be open. Discard the unopened mussels.
Serve with crusty bread and a glass or two of Ceja Vineyards Pinot Noir.