Pozole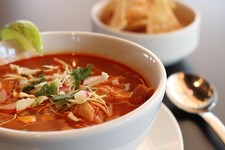 Recipe Date:
January 1, 2015
Measurements:
Imperial (US)
Pozole is a hearty soup or stew that originated in central Mexico. The main ingredient is hominy - dried purple, white or yellow corn kernels that have been boiled and soaked in slaked lime to remove the hull, and then drained, rinsed, and cooked for about 2 hours.
Pozole also contains garlic and dried chiles and is often made with pork or chicken and is always served with fresh toppings such as cabbage, onion, radishes, cilantro, a pinch of dried Mexican oregano and lime juice.
Pozole is known in Mesoamerica since the pre-Columbian era, and today, this delicious stew is popular across Mexico and neighboring countries and is served both as a daily meal and as a festive dish at celebrations such as Dia de los Muertos, Christmas and New Year.
This recipe was my grandmother mamá Chepa's favorite and it's easy to prepare at home using canned hominy for convenience. I love it and crave it as well especially when the weather turns chilly, and served with all the garnishes and small corn tostadas as is done in Jalisco, it's delightful with our delicious vinos.
Ingredients
13 lbs Mexican style hominy, drained
7 lbs skinless drumsticks thoroughly cleaned
1 yellow onion cut in half
2 garlic heads
2 bay leaves
water
salt
For Salsa Roja
2 dried Pasilla peppers
6 dried Guajillo peppers
6 dried California peppers
12 garlic cloves
10 whole peppercorns
8 cloves
1 tsp dried Mexican oregano
For Garnishes
sliced radishes
shredded cabbage
chopped cilantro
chopped white onion
chopped serrano peppers
fresh lime juice
pinch dried Mexican oregano
small corn tostadas
Directions
To a large pot of gently boiling water, add the drumsticks, onion cut in half, garlic heads, bay leaves and salt. Skim the foam and excess fat from the surface of the cooking drumsticks to get a clear broth. Lower the heat and simmer until the chicken is cooked - about 30 minutes. Remove the drumsticks from the pot and cool. Add Mexican style hominy to chicken stock and simmer.

Meantime, remove the stems from the Pasilla, Guajillo and California peppers as well as the seeds from the pods. Rinse the peppers in warm water. Place the peppers in a small pot and add enough broth from the chicken stock to cover the peppers. Bring to a boil and cook for 6 minutes. When done, place the peppers with the cooking liquid in a food processor/blender and add the garlic cloves, whole peppercorns, cloves and a pinch of Mexican dried oregano. Process until smooth and add to the simmering hominy and cook for one hour. Debone the drumsticks and break into smaller pieces. Add to the simmering hominy and adjust salt to taste. Simmer for 10 minutes.

Serve in bowls garnished with shredded cabbage, sliced radishes, chopped onion, cilantro, Serrano peppers, a pinch of dried Mexican oregano, lime juice and a corn tostada. Enjoy with a glass or two of our perfectly balanced Ceja Vineyards Chardonnay and Pinot Noir.