Salmon Ceviche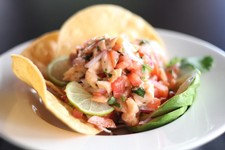 Measurements:
Imperial (US)
Ceviche, seviche, or cebiche originated in Peru and eventually spread into Mexico and Central America. It's made from fresh raw fish cured in citrus juices, such as lime or lemon, and spiced with chili peppers or other seasonings including chopped onions, salt and cilantro. In Mexico we add fresh diced tomatoes and it's served with tostadas.
Ingredients
2 lbs skinless boneless salmon steaks (sushi grade)
3 cups fresh lime juice (or enough to cover salmon)
1 serrano pepper, minced
1 jalapeño pepper, minced
1 medium red onion, diced
3 Roma tomatoes, diced
3 tbsps extra virgin olive oil
3 tbsps vinegar juice from canned pickled jalapeño peppers
1 tsp dry oregano
1/2 cup chopped cilantro
avocado
salt and pepper
Directions
Clean and rinse fish. Pat dry with clean cloth or paper towels and cut into bite-size pieces. Place fish in a glass bowl and cover with lime juice and add salt and pepper. Mix well and then refrigerate for one hour.
Remove the fish from the refrigerator and drain ¾ of the lime juice from the glass bowl. Add in and mix together the serrano and jalapeno pepper, red onion, tomatoes, olive oil, vinegar juice from canned pickled jalapeño peppers and dried oregano. Ensure the fish is completely coated with all these ingredients.
Adjust the salt and pepper to desired taste. Serve with corn tostadas, chips or endive. Garnish with cilantro, lime wedges and avocado slices.
Pair and enjoy this salmon ceviche recipe with our Sauvignon Blanc, Chardonnay and Pinot Noir.