Salsa de Tomate (Tomato Salsa)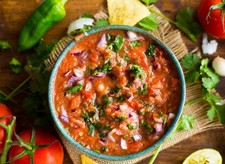 Recipe Date:
April 18, 2020
Measurements:
Imperial (US)
Mexican salsas come in many colors, consistencies and textures. They can be made from so many ingredients but they all have one item in common - chile. Chiles come in many shapes, sizes and colors and they can be fresh or dried with mild heat to super-hot.
There's a salsa for every dish and occasion, and this is my go-to recipe when tomatoes are not in season. It's quick, easy and delicious.
Ingredients
2 14.5 oz cans diced tomatoes
2 fresh jalapeno peppers, fire roasted
1 fresh serrano pepper, fire roasted (optional)
1/3 cup water
salt to taste
2 tbsps white onion, diced small
2 tbsps cilantro, finely chopped
Directions
If you have a gas stove, fire roast the peppers on the stovetop on a burner at high heat turning them with thongs. Scorch the peppers until they are blackened.
Coarsely chop the peppers and place in a processor or blender with 1/3 cup of water and 1 teaspoon of salt. Process until chunky (about 3 seconds) and remove contents and place in a small bowl.
Add the canned diced tomatoes to the processor or blender, and pulse for 2 to 4 seconds. Remove to a medium bowl. Add the pepper mixture to the tomatoes one tablespoon at-a-time until achieving the preferred spiciness and blend.
Taste and adjust the salt. Add the diced white onion and finely chopped cilantro and gently mix.