Shrimp Cocktail (Coctel de Camarones)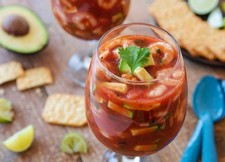 Recipe Date:
October 13, 2020
Measurements:
Imperial (US)
Coctel de Camarones is often called Mexican shrimp cocktail, but it's nothing like American shrimp cocktail. It's a very popular Mexican dish especially along the coast, and it's always a cold tomato-based soup with raw diced vegetables and poached shrimp, sort of like a cross between a Virgin Mary and gazpacho. Refrigerating it allows the flavors to meld.
I love this Puerto Vallarta version of coctel de camarones and every time I prepare it, I'm transported back to the gorgeous ocean views with gentle sea breezes blowing through my hair while enjoying this delectable dish paired with a refreshing glass of our crisp Ceja Vineyards Bella Flor Rosé.
Ingredients
For Shrimp
2 lbs raw shrimp, medium to large
4 cups water, or more to cover shrimp
1 tomato, cut in half
1/2 white onion
1/2 red bell pepper
2 celery stalks
8 garlic cloves
2 bay leaves
cilantro sprigs
salt
For Cocktail Sauce
3 roma tomatoes, diced small
1 cucumber, peeled and deseeded and diced small
1/2 red onion, diced small
2 cups shrimp broth
1 cup tomato juice (spicy or regular)
1 cup clam juice
1/2 cup ketchup
1/2 cup lime juice
1/4 cup pickled jalapeno vinegar
1 serrano pepper, minced
1 manzano pepper, minced
1 tbsp Valentina hot sauce
diced avocado for garnish
minced cilantro for garnish
tostaditas (small corn tostadas)
Directions
For Shrimp
Bring salted water to a boil in a medium saucepan with the tomato, onion, celery stalks, red bell pepper, garlic cloves, bay leaves and cilantro sprigs. Add shrimp and simmer for 3 minutes or until done.
Remove shrimp and place in a cold water bath to stop the shrimp from additional cooking. Chill in the fridge. Reserve 2 cups of the shrimp broth and allow to cool.
For Cocktail Sauce
Combine all cocktail sauce ingredients in a large glass bowl -- adjust salt and chill.
To Serve
Place 6 - 8 cooked shrimp in a large cocktail glass then add cocktail sauce to cover the shrimp. Garnish with diced avocado and minced cilantro and serve with small tostaditas or tortilla chips. It's refreshing and filling. Enjoy with a glass or two of our balanced Ceja Vineyards vinos.