Skirt Steak Vampire Tacos (Tacos Vampiros)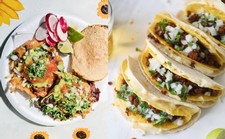 Recipe Date:
November 17, 2020
Measurements:
Imperial (US)
I love gooey cheesy quesadillas filled with other yummy ingredients like carne asada, potatoes with longaniza, veggies, seafood and everything savory. And so does my daughter Dalia Ceja.
When I mentioned we should do quesadillas for our weekly Taco Tuesday, Vino y Mas, Dalia remembered fondly the many times we've dined at Taqueria El Infierno when we've visited my hubby Pedro Ceja's dear family in Apatzingan, Michoacan in Mexico.
Dalia's favorite dish on the menu is always Tacos Vampiro -- Vampire Tacos!
What is a Vampire-Style Taco you asked? It's a quesadilla and a taco rolled into a quesotaco! It can be made with a corn or flour tortilla and a favorite easy-to-melt cheese. I love to use queso Oaxaqueño or queso Chihuahua but shredded mozzarella cheese is a great substitute.
Today, we're craving arrachera carne asada (grilled skirt steak) to add to this most satisfying dish, and paired with a glass or two of our Mezcla 54 and Oxomo Bordeaux blends, it's truly delicious.
Ingredients
3 lbs arrachera, sliced in 1/3 inch thick steaks
1/2 cup fresh lime or lemon juice
1/2 cup olive oil
1/4 cup soy sauce
12 garlic cloves, minced
1 tbsp crushed red pepper
salt and pepper to taste
12 corn tortillas
3 cups shredded Oaxacan or Chihuahua cheese
guacamole
salsa of choice
Directions
Combine the lime juice, olive oil, soy sauce, minced garlic, crushed red pepper, salt and pepper in a bowl. Place arrachera steaks in a large glass bowl and add marinade to the meat. Mix well so that all the meat is coated. Cover and marinate the meat at least one hour before grilling.
Heat the grill to medium high and cook arrachera two to three minutes per side. On a cutting board, cut the grilled arrachera into small strips and place in a shallow bowl and cover with foil paper until ready to use. And no worries if you don't have a grill, the meat can be pan-seared on the stove top and it's just as tasty.
Meantime heat a comal or griddle and place two corn tortillas on top. Flip the tortillas over once they feel warm to the touch -- about 30 seconds. Place 1/3 cup of shredded cheese and distribute evenly on the tortilla until it melts. Add grilled arrachera on top of the melted cheese, and with a spatula, fold the tortilla in half. Continue cooking and flip over again if needed until cheese and meat are blended.
Remove quesotaco from the comal or griddle and serve with a side of guacamole and a favorite salsa. It's heartwarming and ooh so good.