Tacos de Camarones con Salsa de Mango (Shrimp Tacos with Mango Salsa)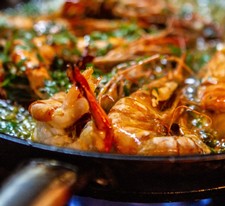 Recipe Date:
April 6, 2020
Measurements:
Imperial (US)
These tacos de camarones con salsa de mango (shrimp tacos with mango salsa) are perfectly seasoned, packed with flavor, made with tons of healthy ingredients and they're fast to whip together. I'll share my favorite way to make shrimp tacos, but honestly, this shrimp is good enough to stand on its own — the seasoning mix and salsa are so delicious. This dish pairs well with crisp white wines and lighter red wines like our Ceja Sauvignon Blanc, Chardonnay and Pinot Noir.
Ingredients
For Shrimp
2 lbs peeled shrimp (16-20/pound)
6 large shallots thinly sliced crosswise
12 large garlic cloves thinly sliced crosswise
2 tbsps unsalted butter
6 tbsps olive oil
1 tsp cayenne pepper (or more if you like heat)
1/2 tsp each black pepper and salt
juice of one lime
corn or flour tortillas
For Mango Salsa
2 ripe firm mangoes (peeled, pitted and diced)
1 peeled red onion, diced
2 jalapeño peppers (seeded and diced)
1 red bell pepper, diced
1/2 cup fresh cilantro, finely chopped
juice of one lime
salt and pepper to taste
For Creamy Sauce
1/2 cup crème fraiche, crema Mexicana or sour cream
1/2 cup Greek yogurt (whole milk, unflavored)
1 minced garlic
1/4 cup cilantro, coarsely chopped
1 tbsp lime juice
2 minced chipotle peppers in adobo sauce (optional)
pinch of salt
Directions
For Shrimp
Rinse shrimp in cold water. Pat dry with paper towels and cut in half lengthwise and place in a glass bowl. Add sliced shallots, sliced garlic, cayenne pepper, salt and black pepper. Mix well to coat shrimp completely. Add 4 tablespoons of olive oil and mix well again. Cover and set aside.
For Mango Salsa
Combine all the ingredients in a bowl, cover and place it in the fridge.
For Creamy Sauce
Blend all the ingredients in a food processor until your desired consistency.
Assemble
Heat 2 tablespoons each of butter and olive oil in a large non-stick pan or skillet over medium high heat. Add the shrimp mixture to the hot pan and sauté until shrimp turns pink (about 5-8 minutes).Taste for desired doneness. Squeeze lime juice and stir – taste and adjust salt.
Warm the tortillas. Add enough cooked shrimp mixture to each tortilla. Top with the mango salsa and drizzle the creamy sauce over everything.
Vegetarian Option
Substitute slices of firm ripe avocado for the shrimp and add the mango salsa and creamy sauce – it's just as delicious and satisfying and it's great with the recommended Ceja wines too.