Tacos de Frijoles con Longaniza (Bean and Mexican Sausage Tacos)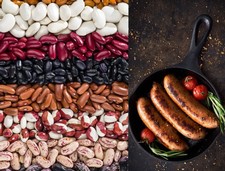 Recipe Date:
September 15, 2020
Measurements:
Imperial (US)
When it comes to food, Mexico has been the birthplace of many delicious and nutritious ingredients that have revolutionized our diet and the culinary world across our planet.
From corn, beans, tomatoes, chiles, squash, sweet potatoes, nopales (cactus), agave, vanilla, and cacao to the beloved avocado, many of the foods we enjoy today come from Mexico's indigenous people. A variety of the foods we now consider mainstream were feeding and nourishing locals way before the Spanish arrived in the Americas and transported them to other corners of the world.
The origins of beans are widely credited to central Mexico (the area of the modern day states of Jalisco and Durango) and throughout South America. Often, beans were grown with maize (corn) and squash as a farming technique to efficiently maximize the soil, and to minimize soil erosion.
Beans are present in most Mexican meals –– they're served as a side dish, in soups, used as fillings for tacos and toppings, and more. And though pinto and black beans are the most common types in the United States, in Mexico dried beans come in a pleasing rainbow of flavors, shapes and colors. Many experts believe there are over 200 different edible Mexican bean varieties.
Pale yellow peruano beans are widely used in central Mexico and they were mamá Chepa's (my maternal grandmother) favorite, although papá Ines (my maternal grandfather) grew many heirloom varieties.
I love peruano beans too and this is one of my preferred recipes, and paired with Cabernet Sauvignon based wines makes for a tasty combination.
Ingredients
6 cups cooked peruano beans plus their cooking liquid
1 lb Mexican longaniza, cooked and fat rendered
1 onion, medium diced
4 small tomatoes, medium diced
6 garlic cloves, minced
3 chipotle peppers in adobo sauce, minced
3 tbsps olive oil
pinch of oregano and cumin
salt and pepper to taste
tortillas
Garnishes
avocado slices
crumbled Cotija cheese
your favorite salsa
Directions
Remove casing from longaniza sausages and place in a medium hot skillet -- do not break sausage. Cook until golden and turn the sausage over until it is cooked through. Remove sausage from skillet and place on a paper towel lined bowl to drain excess fat.
Remove excess fat from the skillet and add 3 tablespoons of the olive oil and heat to medium. Add diced onions and cook until translucent -- about 3 minutes. Add minced chipotle peppers and diced tomatoes and cook for 5 more minutes. Add minced garlic, a pinch of oregano and cumin and stir to combine.
Add cooked beans with their cooking liquid and bring to a boil then reduce heat and simmer for 10 to 15 minutes. Mash bean mixture with a potato masher and add cooked crumbled longaniza and stir. If too thick add more cooking liquid, water or chicken stock and simmer to incorporate all the flavors. If too runny, continue cooking until desired consistency.
Heat corn tortillas and place two heaping tablespoons of bean mixture in the center of the tortilla and garnish with avocado, crumbled queso Cotija and a favorite salsa.
Bean tacos and Cabernet is a tantalizing pairing of delicious plant based protein with wine, and Longaniza can be omitted for a tasty nutritious vegetarian option.