Fried Plantains (Tostones) with Spicy Aji Salsa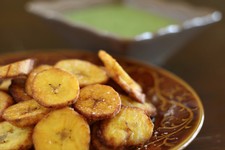 Recipe Date:
January 1, 2015
Measurements:
Imperial (US)
Ingredients
- For Fried Plantains
3 large plantains
Oil for frying
salt to taste
- For Aji Salsa
1/2 head of romaine lettuce
3 jalapeños, fire roasted and deseeded
1/4 cup mayonnaise
3 green onions, coarsely chopped
1/2 bunch of cilantro, chopped
2 garlic cloves
juice from 2 limes
salt and pepper to taste
Directions
For Plantains
Heat oil to 375 degrees F. Peel plantains and cut into 3/4 inch slices. Place sliced plantains in a bowl of salt water for 5 minutes. This aids in turning plantains crisp and golden brown when frying.
Fry plantains in hot oil for about 3 minutes. They should be a golden brown in color, crisp on the edges and semi-soft in the center. Remove plantain slices with a slotted spoon and drain on paper towels. Set aside.
For Aji Salsa
Fireroast jalapeño chiles on comal or griddle then deseed. Coarsely chop chiles, lettuce, garlic, cilantro and green onions then add to a food processor or blender. Add in mayonnaise, garlic cloves, juice from two limes and a few pinches of salt and pepper. Process for 3 to 4 minutes on a medium level.
Sprinkle salt on plantains then serve with aji salsa.