October 29, 2009 | Behind The Scenes, Behind The Scenes | Ariel Ceja
Ceja Family Crest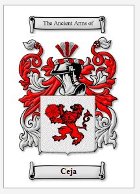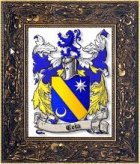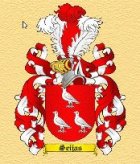 A family crest, also known as a coat of arms, is the expression of a family's pride and aspirations; it is a graphical display of a family name history. While perusing the internet and doing research on the Ceja name, I found the Ceja family Crest in three styles as well as information on the origin of the Ceja name.
Purportedly, the Ceja name comes from Galicia in Northern Spain. This area has strong Celtic roots and in fact shares many Celtic traditions with Ireland and Scotland. The first reference to the Cejas was in 1387 in the small village of Friol, in the province of Lugo in Galicia. More references to the name were made in Brates near the Northern coast. There were several spellings of the name, and it was pronounced in the Galego language (Galician). Don Vasco Gomez das Seixas (Cejas) was a communal leader in those times, an important leader who oversaw several communities during his reign. Other spellings of Ceja are: Aceijas, Azexas, Aseixas, Acejas, Acexas, Azeixas, Sejas, Seixas and Xexas. The surname also spread to Portugal and to the Canary Islands where they were known as "Cejas," "Seijas" or "Sejas."
Spain was a great sea power and one of their major ports was Vigo, on the western edge of Galicia. Most likely the first Cejas probably left from this port to the New World. Although it is not certain of the date that the name Ceja appeared in the New World, the earliest reference to a Ceja was in the mid 17th century in the state of Guanajuato in Mexico. Guanajuato borders the state of Michoacan where the Ceja family of Ceja Vineyards originated from before immigrating to the United States in the 1960s.
Comments
Max Ceja
@ Nov 4, 2011 at 5:46 PM
Hi. Where did you find the family crest with the doves? And what part of Michoacan is your family from?
Julio Ceja
@ Jul 30, 2014 at 7:56 AM
That's awesome. What part of michoacan are u guys from. I'm from Los Reyes
Isela G Ceja
@ Nov 18, 2014 at 10:55 AM
Wow just happen to stumble to this! My Grandfather is a Ceja from Michoacan.. lived in Chavinda-near Zamora- for most of his life but we have many family ties to Los Reyes
Danna Ceja
@ Jan 20, 2016 at 9:40 PM
It's weird to find people with the same last name isn't it! I was born here in the US but my father was born in Jalisco, but has mentioned having family in Aguililla, Michoacán. Guess I'll have to keep searching to find more about our family!
Juan Ceja
@ Feb 19, 2016 at 10:19 AM
I have family in Zamora,Jaripo and Tarimoro Michoacán I was born in Merced California and moved to Dallas Tx when I was 4 I'm sure they Ceja name goes a long way nice to get some good information
G ceja
@ Jun 25, 2016 at 3:50 PM
Nice last name ;) family is from jiquilpan michoacan seems like the name ceja is heavy in that state.
Francisco
@ Jul 2, 2018 at 9:59 AM
My family is from a ranch called la loma blanca de campo municiopio de tepalcatepec. I always wondered where our last name originated from so is nice to see that our family name comes from spain .
Jessica Nascimento
@ Oct 18, 2018 at 11:32 PM
My grandpa is Ceja born in Jalisco Mexico but moved to Tepalcatepec Michoacan
C Ceja
@ Nov 17, 2018 at 5:19 PM
It's rare to come across this last name my family is from Michoacan small town called Jiquilpan/Villamar.
ACejaArizona
@ Feb 24, 2019 at 10:41 AM
I married into the name Ceja. My hysband's Father is originally from a place called Platanar, Michoacán. I researched the name and found additional information. I hope this is as interesting to you as it was to me! The name Ceja is a very unique name. It is concentrated in the regions of Michoacán and Guadalajara, Mexico. From stories told.. it is known that settlers from Europe came to that region of Mexico. After settling in the area the family grew. The Ceja name is believed to be originally Muslim Arab. The name "Ceja" in Arab means courageous. There are families in Spain Andalus Region that bear the original name Ashjaa after immigrating from Saudi Arabia. The name Ashjaa later was converted to Ceja through Christian and Latin influence. You may notice that all the descendants with this last name bare a striking resemblance to each other and their Arab ancestors. It is believed that everyone that bears this last name are related! So if you come across someone with this last name Ceja, please greet your new cousin!
Jayden ceja
@ Mar 16, 2019 at 12:05 PM
Came on this website to figure out my last name
Olivia Ceja
@ Jun 20, 2019 at 8:57 AM
My father is from Michoacán but he literally disappeared 10 years ago his name was Juan Carlos Ceja last seen in Tijuana
James Ceja
@ Jun 27, 2019 at 6:23 PM
Wow it's cool to know the origin and some history of this name
Lorena Ceja
@ Oct 12, 2019 at 7:35 PM
All I know is that my birth certificate says Jose Ceja from Mexico ...I was born in Feb of 1964????
Maria "Josie"
@ Oct 18, 2019 at 8:35 AM
My dad was born in Nayarit. Francisco Ceja, his father was Manuel Ceja. Interesting facts on here😁
Jocelyne Ceja
@ Dec 18, 2019 at 8:33 AM
Wow! These are fascinating facts. I've always wondered about my last names origin. My grand parents are Cosme Ceja and Esperanza Ochoa. My great grand parents were José Ceja and his wife was Maria Ayala (Cuca) from a small town called El Llano, Michoacan.
Ceja
@ Jan 3, 2020 at 3:04 PM
So cousins whats the discount code for family? :)
Hector Ceja
@ Jan 4, 2020 at 11:24 AM
Thank you for that research. Information and history i can pass on to my family and others.
Alexa Ceja
@ Jul 1, 2020 at 9:12 PM
This is so interesting! Both of my parents were born in Reynosa, Mexico and I was born in the United States. I've always been curious about our last name and hold so much pride over it. (I love that it means eyebrow in English!)
Miguel ceja
@ Oct 16, 2020 at 3:39 PM
Where did you guys hear about this website and how did you stumble upon it, just have some thoughts in my head lmao
Claudia Ceja
@ Dec 7, 2020 at 7:20 AM
I was born in the United States, my father was born in Zamora Mexico, all my family resides in Jiquilpan Michoacán. My grandmothers name is Ana Maria Cervantes & Grandfather Francisco Ceja.
So cool to find this site! Always wondered about my family name since I don't know many people with this last name.
Jackie Ceja
@ Mar 20, 2021 at 11:19 AM
My family is from Sahuayo Michoacan! I can count with one hand how many people ive met with my last name! Thanks for this cool info!
Andrew ceja
@ Apr 1, 2021 at 10:18 PM
Born San Francisco- raised in South San Francisco. My jefe is from Chavida Michoacan was looking from a new tattoo idea and stumbled across this very interesting and much appreciated for the info. Use to go to Mexico a lot when I was younger spent many summer over there.
Manuel Ceja
@ May 8, 2021 at 11:48 AM
As noted in the description of the surname above, various spellings were given to the surname, probably depending on who was doing the writing. Of note is that that the first Jewish religious leader born in the US was Gershom Mendes Seixas who was at George Washington's inauguration and help establish King's College in NYC, the precursor to Columbia University. Two generations later a great grandson Benjamin N. Cardozo was an associate justice of the Supreme Court. This jewish line was basically sephardic from Portugal and Spain. Thus, many of us being of partial spanish ancestry have jewish ancestry as well.
Enrique Ceja
@ Aug 18, 2021 at 5:05 PM
We should all have a Ceja Party, anyone raising some "eyebrows" on the other side of the screen if you know what i mean ;)??
Anthony Ceja
@ Sep 13, 2021 at 5:31 PM
My dad was born in Uruapan, Michoacán, I don't know where my mother was born as I lost contact with her at a young age. I was born in Riverside, California, but currently live in Oceanside, California! It is so rare seeing others with the Ceja last name but it was so nice reading everyone's posts.
Paloma Vega Ceja
@ Dec 22, 2021 at 8:09 AM
My mom is a Vega Ceja. After doing her ancestry dna we discovered she is Jewish. So if you are female Ceja you don't have Jewish ancestry, you are Jewish. Check it out. Most of the Jewish community were in Águila Mich. were her parents were born.
Jimmy Ceja
@ Feb 26, 2022 at 2:16 AM
Hey my dad from Zamora michocan I stay in the 661 area reading this and finding out michocan my grandpa ma he rest in peace my dad's dad had colored eyes and tall Miguel Ceja grandpa my dad and my bro
Sandra Ceja
@ May 15, 2022 at 11:58 AM
My fathers name was Jose Maria Ceja. He was from a small town in Jalisco called San Angel. I didn't get a chance to meet the family before he passed would like to see if anyone on here is familiar with that small town and the family.
ESMERALDA CEJA
@ Aug 8, 2022 at 9:54 AM
WOW this is so interesting. My dad is Martin Ceja born in La Luz Michoacan. never see people with this last name.
Johnathan Arteaga
@ Aug 30, 2022 at 11:17 PM
Both my parents are from Michoacán. My mothers last name is ceja they both come from a city nearby called Coeneo de la Libertad. Currently reside in Chicago area but, nice to meet u all cousins!😁
Sonia ceja
@ Nov 14, 2022 at 6:41 PM
Hello ,
My dad was from sahuayo Michoacán, I've done my ancestry test and I have about 16% Spaniard. I find it really kool to know it originated from Spain.
Anthony Ceja

@ Jan 21, 2023 at 5:29 AM

Crazy that everybody have mich. blood and we all cejas

Commenting has been turned off.