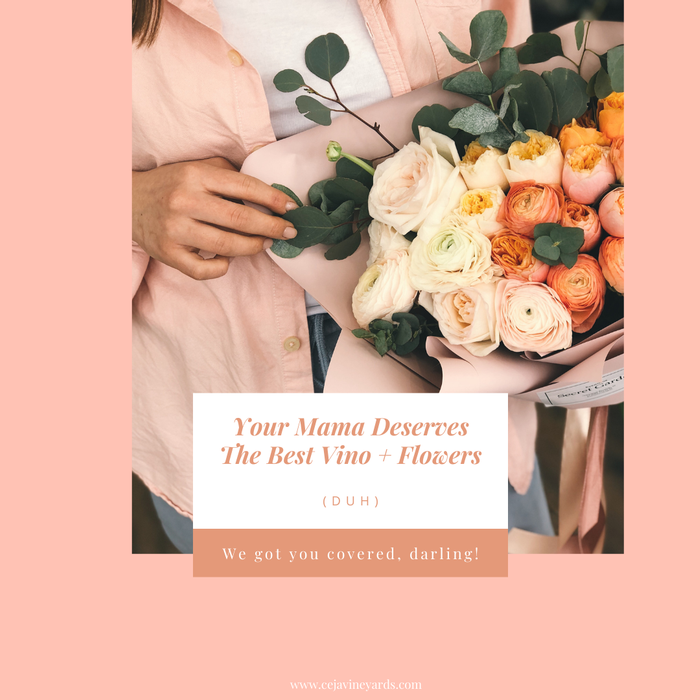 Raise a glass of Ceja wine in honor of the beautiful, strong and impactful mamas in your life! Mother's Day is right around the corner and there is nothing more special than sharing a delicious meal accompanied with a meaningful bottle of wine with the person who raised and nurtured you.
Spoil your mama and visit our wine shop to browse our estate wine collection from Napa and Sonoma Valley. Our Sonoma wine tasting room is also open on Mother's Day. Gift a memorable wine tasting experience and make a reservation today!
Mother's day gifts | Make a reservation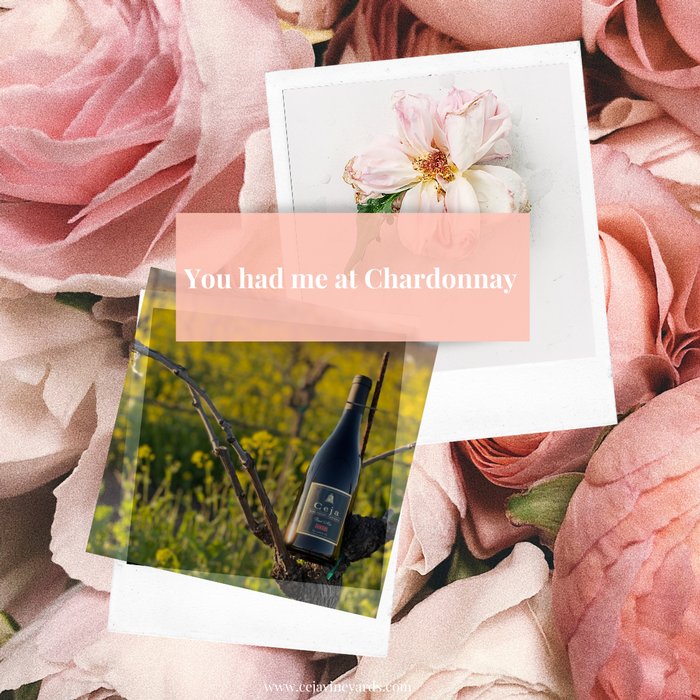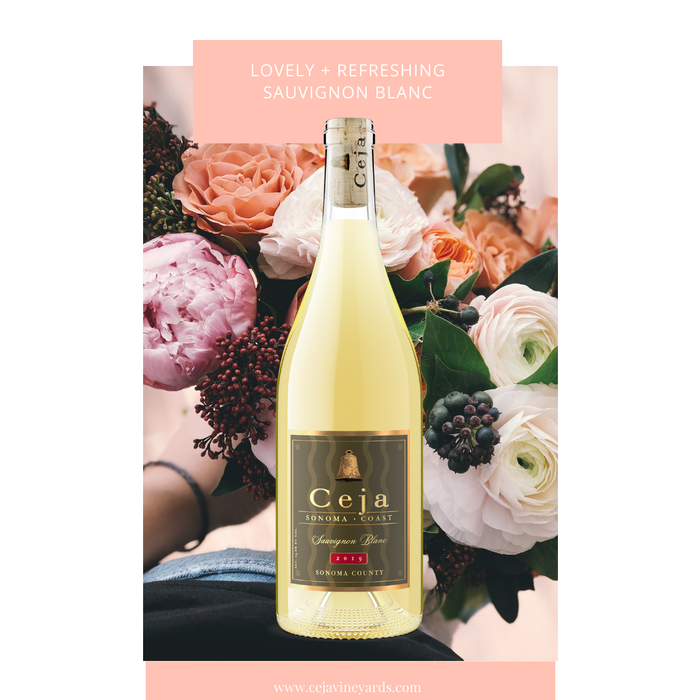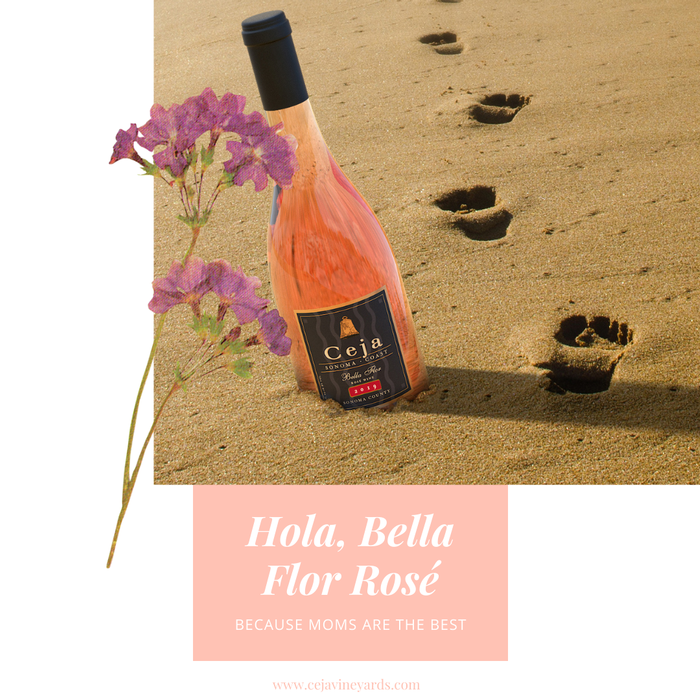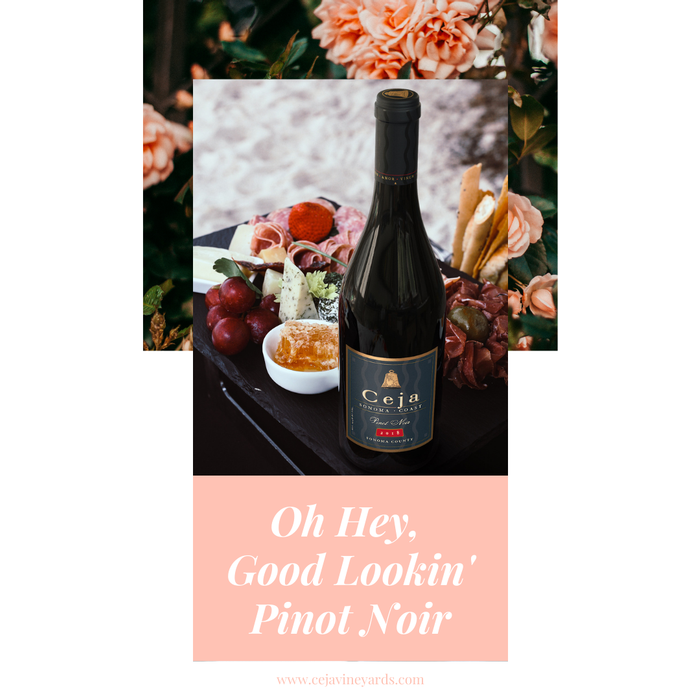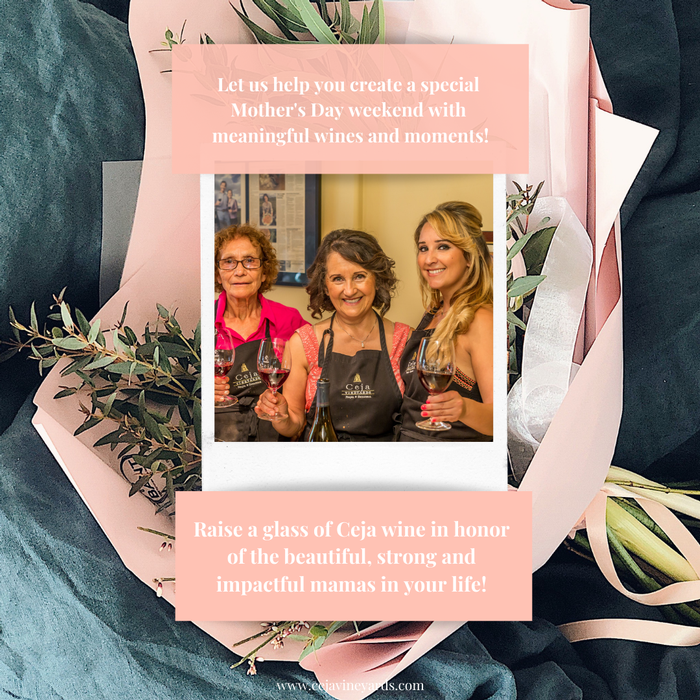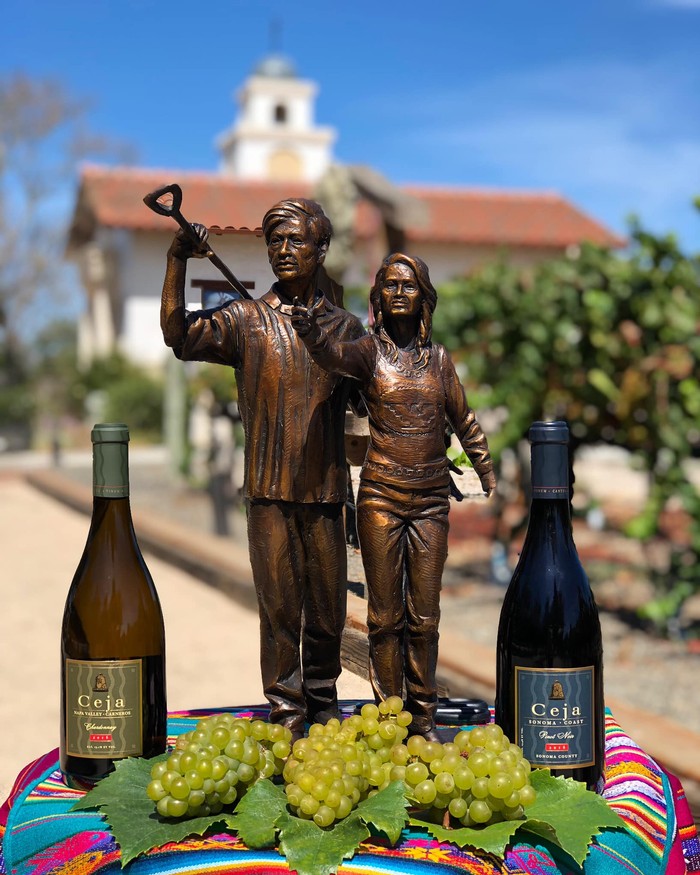 A Toast to Cesar Chávez Day!
Historical bronze statue of Cesar Chávez + Dolores Huerta at Ceja Vineyards. Today celebrates the birth and legacy of the civil rights and labor movement activist Cesar Chavez. Farmworkers today are on the front lines of the COVID-19 crisis, feeding families in California and across the nation.
On Cesar Chavez Day, we honor him and all farmworkers that help put food on our tables and harvest our grapes to make legendary wines from Napa + Sonoma Valley. We have the utmost respect for Farmworkers (campesinos) because that is how our familia was introduced to the wine industry. Today and everyday we raise our wine glasses and toast to farmworkers all over the world.
Muchas gracias campesinos y salud!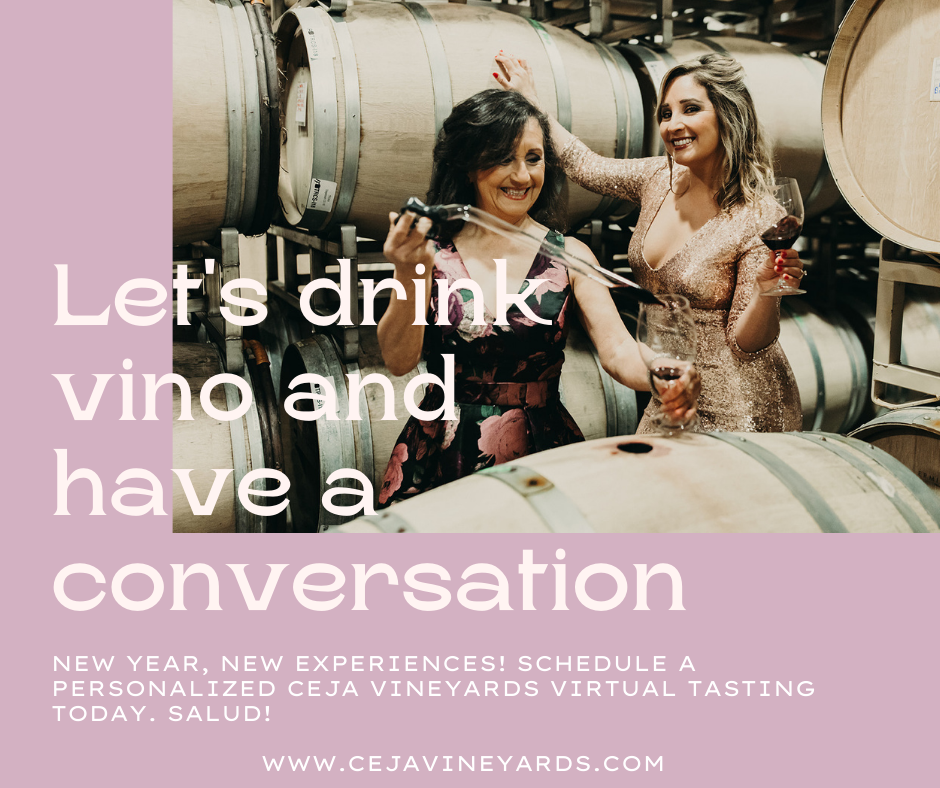 Pop, swirl, sniff, sip... repeat!
New year = new experiences. Schedule a personalized Ceja Vineyards virtual tasting. Stay in touch and learn about our wines, history, food + wine pairing passions and business in a fun and interactive way. We'll drink to that!
Schedule a virtual tasting experience today!
Cheers to a healthy and positive 2021 year ahead. We look forward to toasting with you in person in the near future!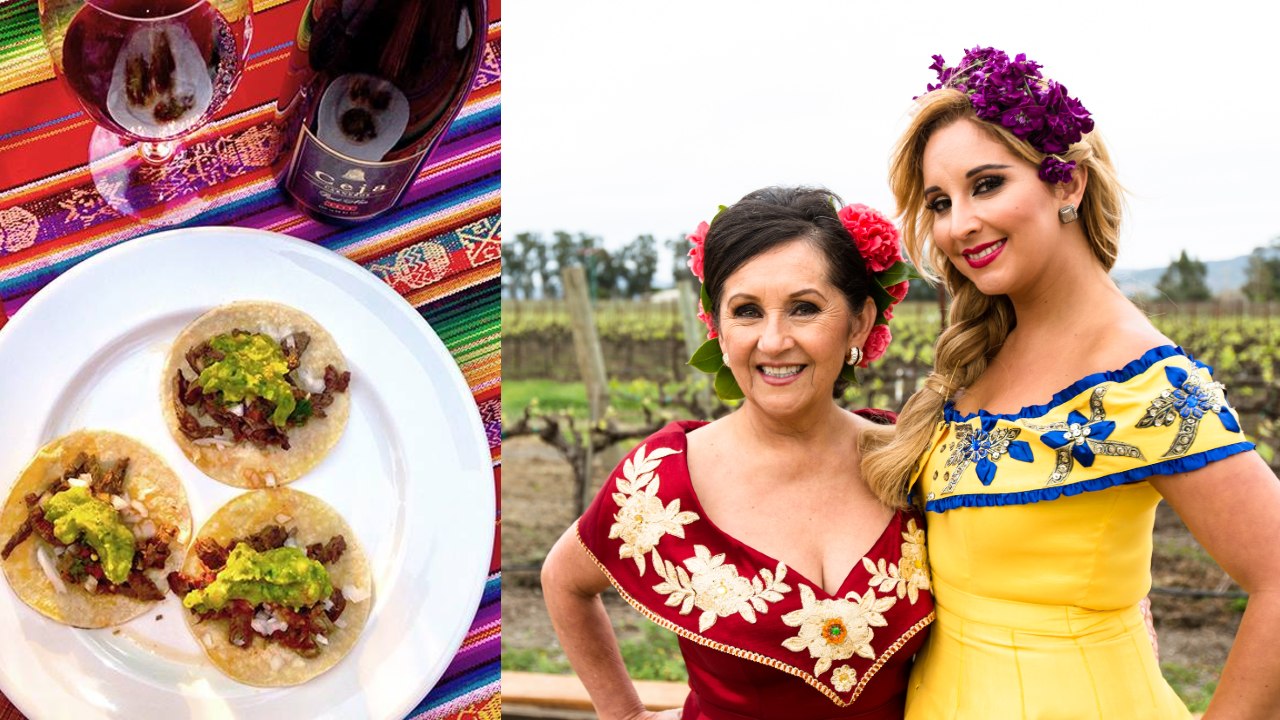 Dear Friends,
We're proud to announce Taco Tuesdays, Vino y Más with Amelia & Dalia Ceja streaming on Facebook Live every Tuesday at 7:00 p.m. PST.
Join Amelia and Dalia this Tuesday, April 7th for the official inaugural live stream.
This dynamic duo's dedication to ease, healthfulness, and—above all else—flavor should win a permanent place in the hearts of home cooks. They'll discuss classic and contemporary dishes, fun wine pairings and give snippets of their down-home family life.
The first delicious recipe that will be showcased is Amelia's Tacos de Camarones con Salsa de Mango (Savory Shrimp Tacos with Mango Salsa) paired with our zesty Sauvignon Blanc and opulent Chardonnay so be sure to tune in this coming Tuesday, April 7th at 7:00 p.m.
If you aren't already a facebook follower, now is a great time to link up and stay connected. Please also share this blog post with your family and friends.

Come hungry and thirsty amigos.
-Team Ceja

Join Napa Valley's Premier Wine Familes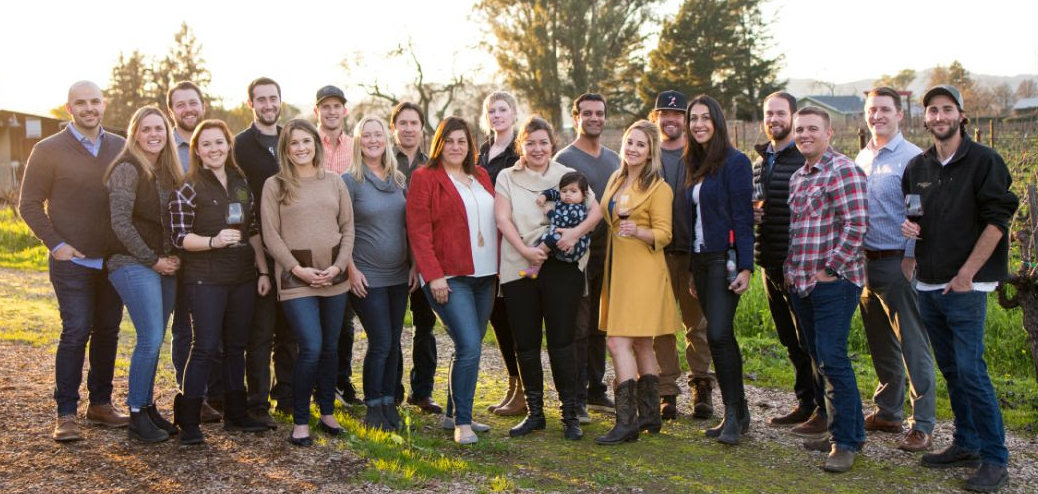 Come spend Sunday, September 22nd, with Dalia Ceja and NG: Next Generation in Wine! This event showcases Napa Valley's most renowned multi-generational family owned wineries in one immersive day. The lineup will include a walk-around wine tasting and seasonal cuisine from the Club Lounge of the Presidio Golf Course in San Francisco. Find a wine you love and take a bottle home with you that day! The following wineries will be in attendance and will have wines available for purchase on site:
BALDACCI FAMILY VINEYARDS + BARLOW VINEYARDS + CEJA VINEYARDS + KENEFICK RANCH WINERY + MONTICELLO VINEYARDS + ROBERT BIALE VINEYARDS + S.R. TONELLA CELLARS + SCIANDRI FAMILY VINEYARDS + YATES FAMILY VINEYARD
Date: Sunday, September 22, 2019
Time: 2:00 PM – 5:00 PM
Price: $55.00 - $75.00
Ceja Vineyards Fan (Promo Code - THANKYOU): $55.00
Early Bird (purchased before September 1, 2019): $65.00
General Admission: $75.00

Location: Presidio Golf Course in San Francisco
300 Finley Road, San Francisco, CA 94129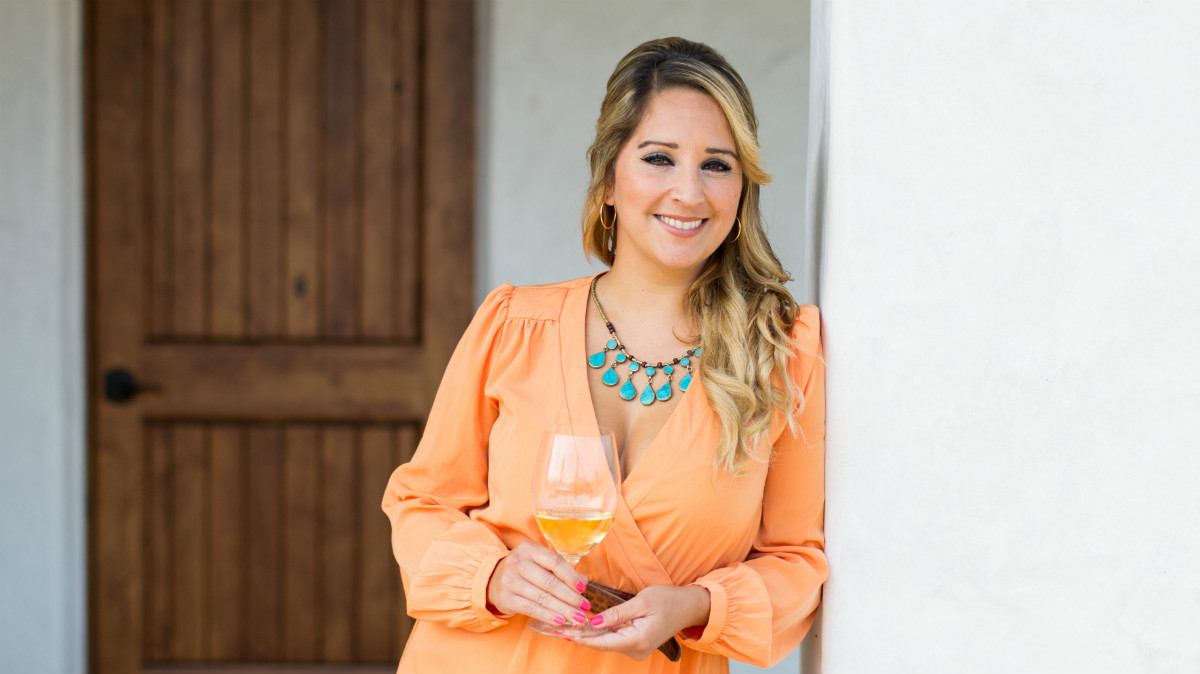 ---
Inviting All Foodies From The Bay Area And Beyond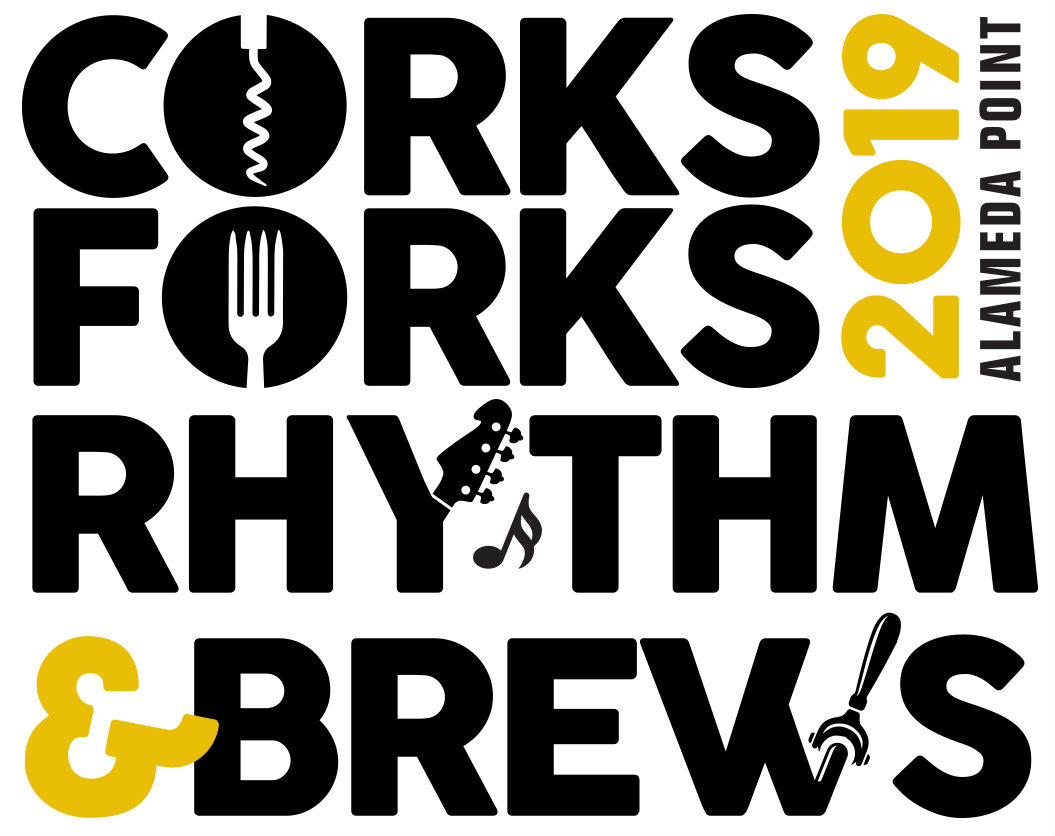 Join Ceja Vineyards at Corks, Forks, Rhythm & Brews at Alameda Point's City Hall West Parade Lawn in Alameda on Saturday, October 5th. This is an epicurean event and outdoor regional festival showcasing the finest in food and drink culture throughout Northern California in its benefit for the Alameda Boys & Girls Club. We are excited to be a part of the event as an exhibitor and we hope you will join us there.
Corks, Forks, Rhythm & Brews will offer attendees the chance to sample the cuisines and products from some of the state's most distinguished epicurean influencers, while enjoying the sights and sounds of the local entertainment industry. Held in the heart of the Bay Area on the island city of Alameda, Corks, Forks, Rhythm & Brews is set to be one of the most exciting luxury events of the year.
Tickets for Corks, Forks, Rhythm & Brews are priced at $100 for General Admission, $200 for VIP and $75 for Designated Driver. The VIP experience includes an extra hour at the event, expedited entry, a private lounge area and music performance as well as access to elevated food and beverage purveyors.
For the general public, tickets will be 15% of until September 1, 2019. But, as a loyal Ceja fans, if you use the discount code CEJAVINE20, you can get 20% off General Admission or VIP online ticket sales.
Date: Saturday, October 5, 2019
Time: 12:00 PM – 3:00 PM​
Price: $80.00 - $200.00
General Admission: $100.00
VIP: $200.00
Ceja Vineyards Fan (Promo Code - CEJAVINE20): Get 20% off General Admission or VIP online ticket sales

Location: City Hall West Parade Lawn | Alameda Point
950 W Mall Square Alameda, CA 94501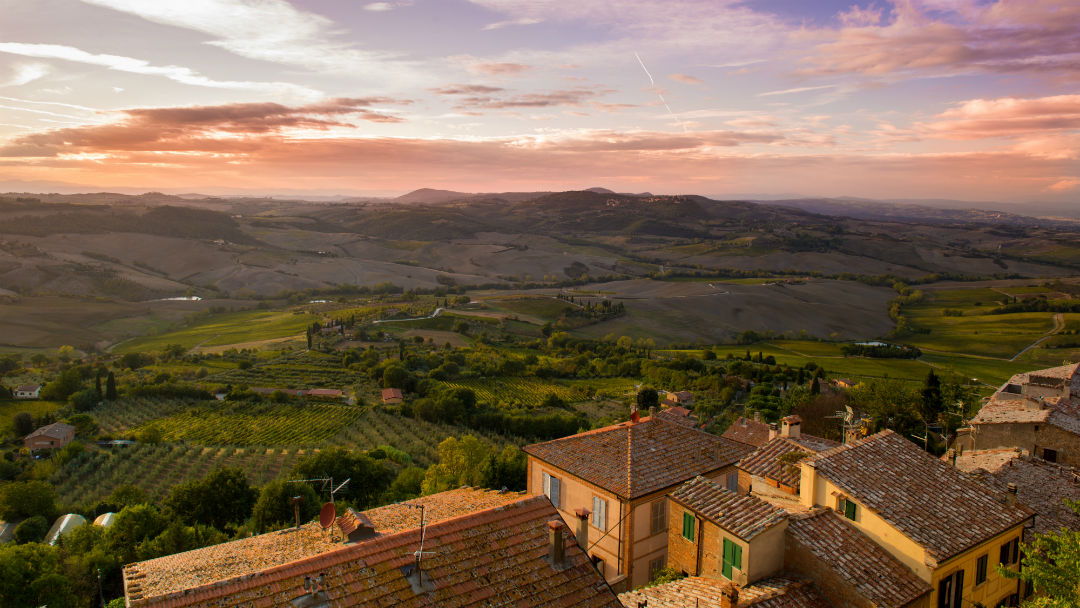 From romantic cities to foodie havens and artistic epicenters, this itinerary hosted by Amelia Ceja will enliven all your senses. Embark in Lyon, France's culinary capital, and enjoy an evening illumination cruise. Savor the beauty of legendary vineyards and imbibe in local vintages like Beaujolais and Côtes du Rhône. You can even become an expert in all things culinary: go in search of the highly prized "Black Diamond" truffles; learn how to pair chocolate with wine; and discover how olives turn into the Mediterranean's nectar, olive oil. Trace the steps of famous artists in Arles and Carriéres de Lumiéres before your return flight home.
7- night cruise | October 29 - November 5, 2020 | aboard AmaCello
Extra included features only on wine cruises
Special tours and tastings at local wineries and private cellars
Learn about winemaking in renowned vineyards
Onboard wine pairings with award-winning cuisine
Amelia Ceja will lead tastings and discussions
Included with your fare
7 nights deluxe accommodation in river view stateroom
Unlimited wine, beer and soft drinks with lunch and dinner onboard
Fine dining at The Chef's Table and Main Restaurant
Sip & Sail Cocktail Hour
Captain's Gala Dinner and Cocktail Reception
Exclusive Wine Cruise features including tastings, tours and discussions
Complimentary Wi-Fi access on board
A variety of guided shore excursions in every port
Complimentary bicycles and helmets
Cities & Sights
Lyon → Vienne →Tournon → Avignon → Grignan → Arles → Les Baux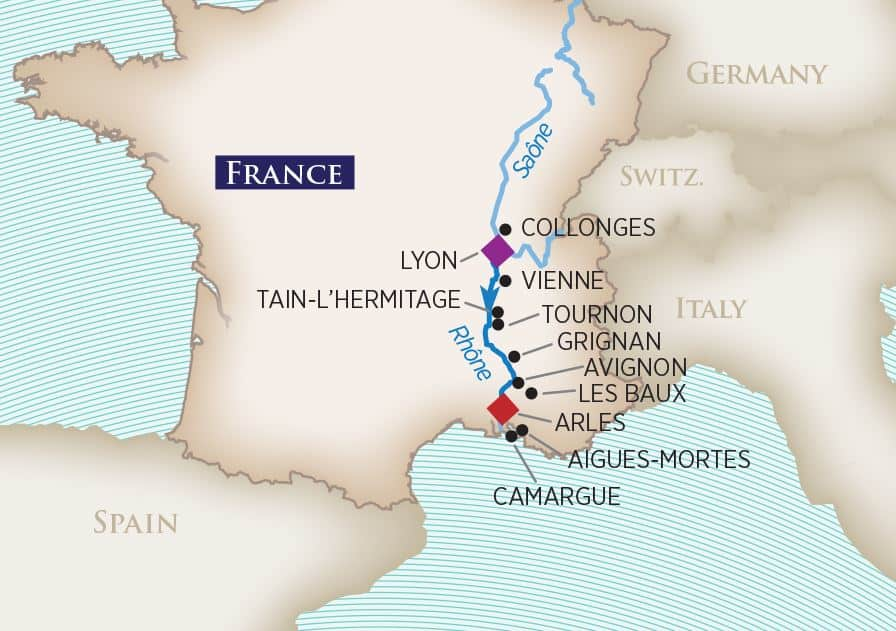 To book this exclusive wine cruise, or for more information contact:
Patty Hoey at AAA Travel
707-252-5619 • patty.hoey@norcal.aaa.com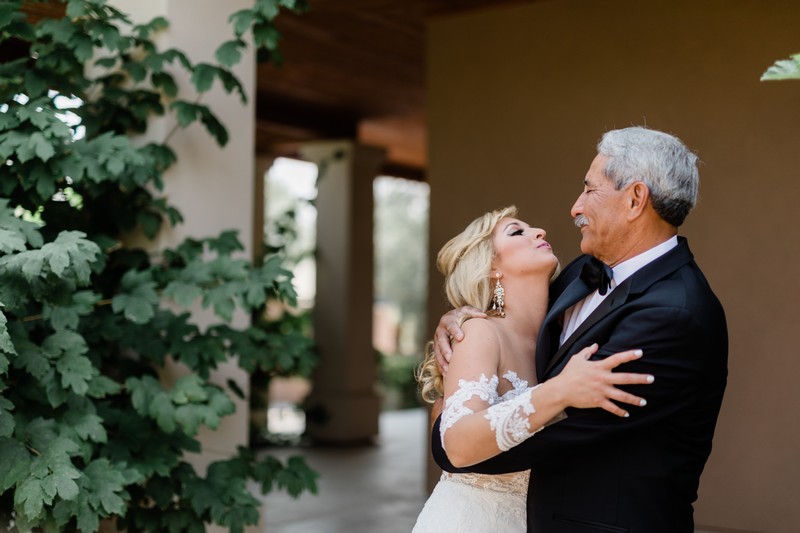 ¡Feliz Cumpleaños Papa Pedro Ceja!
First look with my dad on our wedding day! Such a special moment between us that I will never forget. Today is also his birthday and he looks more handsome than ever! As he always jokes, "I'm aging like a damn fine wine." True story dad...
If there's a way to build it, my dad will find it. This week we celebrate his artistic eye and contributions to Ceja Vineyards. From his work as an engineer, he understands that even the simplest product represents a lot of skill and work. He brings a forward-looking practicality and analytical eye to our Ceja winery plans. Next time you see him give him a big bear hug and grill him on the winery plans - he'll be in heaven!
P.S. Please visit www.daliaceja.com to see more of my wedding pictures!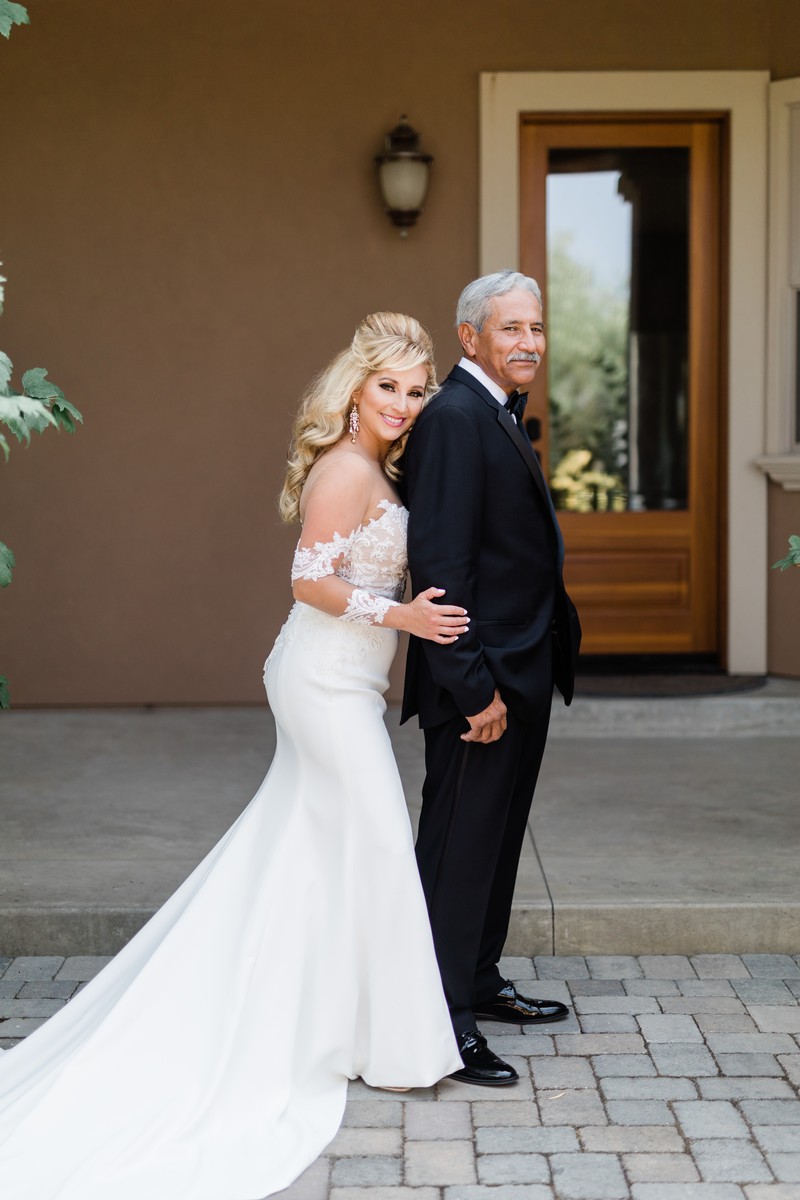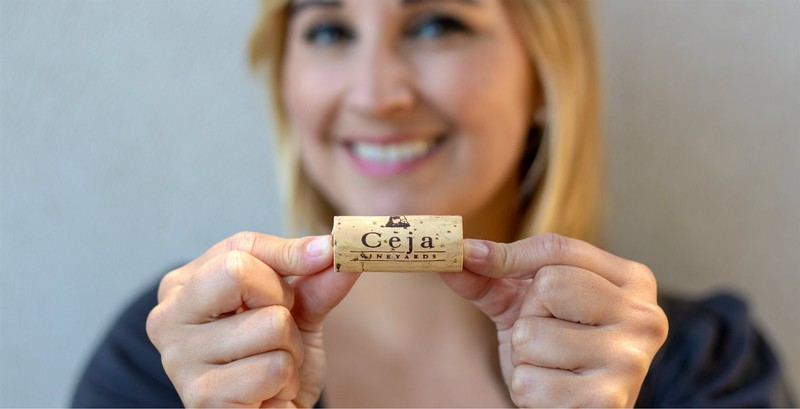 Plan your next wine tasting experience focused around the Carneros wine growing region in Napa and Sonoma Valley! We are thrilled to partner with Beau Wine Tours who provide intimate VIP experiences that are unique to each client's taste and wine preferences. Learn more about Beau Wine Tours and book your next tour!

Below, you'll find some of my favorite wine tasting spots in Carneros! You will notice they share a few things in common: stunning views, award-winning wine portfolios, and unforgettable hospitality experiences! Unlike most of the Napa Valley's famous AVA's, Carneros is known largely for its Pinot Noir and Chardonnay grapes, as well as famous sparkling houses like Domaine Carneros (check it out below!). Recently, other varieties have been planted as viticulturists experiment with the region's rolling hills, cool fog, and warm daytime temperatures.

1. Ceja Vineyards
No brainer! Enhance your wine knowledge as you learn about our rich Mexican heritage and see what makes the Carneros region such a premier grape growing region. Nuestra casa es su casa, we look forward to hosting you in the near future!

2. Domaine Carneros
Bubbles, bubbles, bubbles. Sit on the patio and enjoy the gorgeous views of the Carneros countryside.

3. Bouchaine Vineyards
Overlooking San Pablo Bay and both the Napa and Sonoma Valleys, Liana Estates is a picturesque winery perfect for an afternoon escape.

4. Artesa Winery
It's like a walking art gallery with wines and a view to match the beauty of Carneros.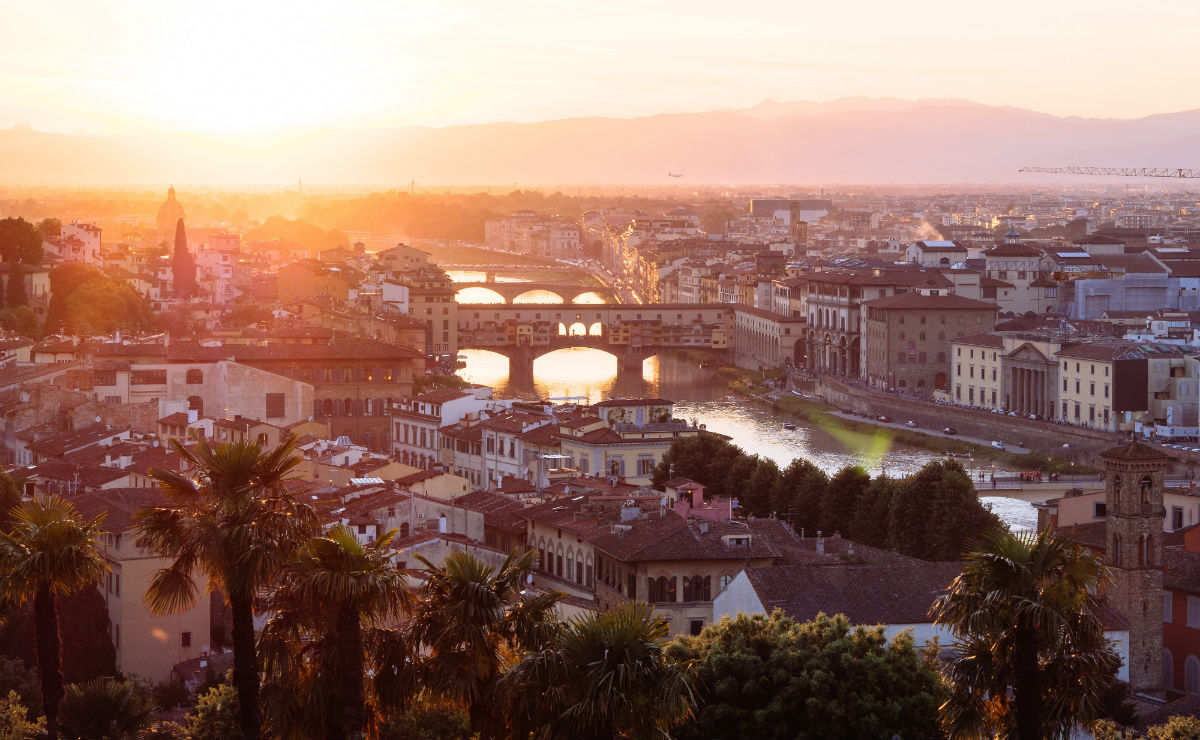 Join your host Amelia Ceja for an unforgettable wine cruise experience on the extraordinary Celebrity Edge. Step aboard the stunning Celebrity Edge for a 7-night journey from Rome, Italy to Barcelona, Spain.
June 15 - 22, 2019 | Aboard Celebrity Edge
Sailing From Rome (Civitavecchia), Italy
Enjoy these private Ceja Vineyards events with Amelia Ceja
- Welcome aboard wine reception
- Exclusive wine pairing luncheon with Amelia Ceja
- Behind-the-scenes tour of Celebrity's culinary operations
- 1 hour cooking demonstration paired with Ceja Vineyards wines
- 1 hour wine tasting featuring Ceja Vineyards wines
- 1 hour farewell Salsa Dance Party
Exclusive to the Celebrity Edge
- The Magic Carpet – Movable cantilevered platform
- Infinite Verandas – Transformed staterooms
- King sized beds with Cashmere Bedding Collection
- Eden – Three stories of windows in a garden oasis
- Rooftop garden – a living urban playscape
- Martini-shaped hot tubs
- Outward facing pool deck
- Solarium – Adults-only sanctuary
- 18 unique restaurants
Celebrity Edge
Luxurious, High Tech Staterooms – Designed with all the right tasteful details. Retreat to your private haven that offers Cashmere Bedding Collection, embroidered robes, lemongrass scented bath products, flat screen smart TVs and state-of-the-art design and technology.
Extraordinary Service – That is smartly attentive not tediously formal, A staff person for nearly every two guests ensures you can fully escape your everyday. Sommeliers providing insights on new emerging wines. And rooms that are attended to twice a day so that even the smallest details are covered.
Exceptional Dining – Favorites and soon to be favorites served in 18 distinctive restaurants. Enjoy menus crafted by a James Beard-nominated chef that change each evening in one of a kind dining rooms.
Ports Include: Naples, Italy | Monte Carlo, Monaco | Cannes, France | Palma De Mallorca, Spain | Barcelona, Spain

To book this exclusive wine cruise, or for more information contact:
Patty Hoey at AAA Travel
707-252-5619 • patty.hoey@norcal.aaa.com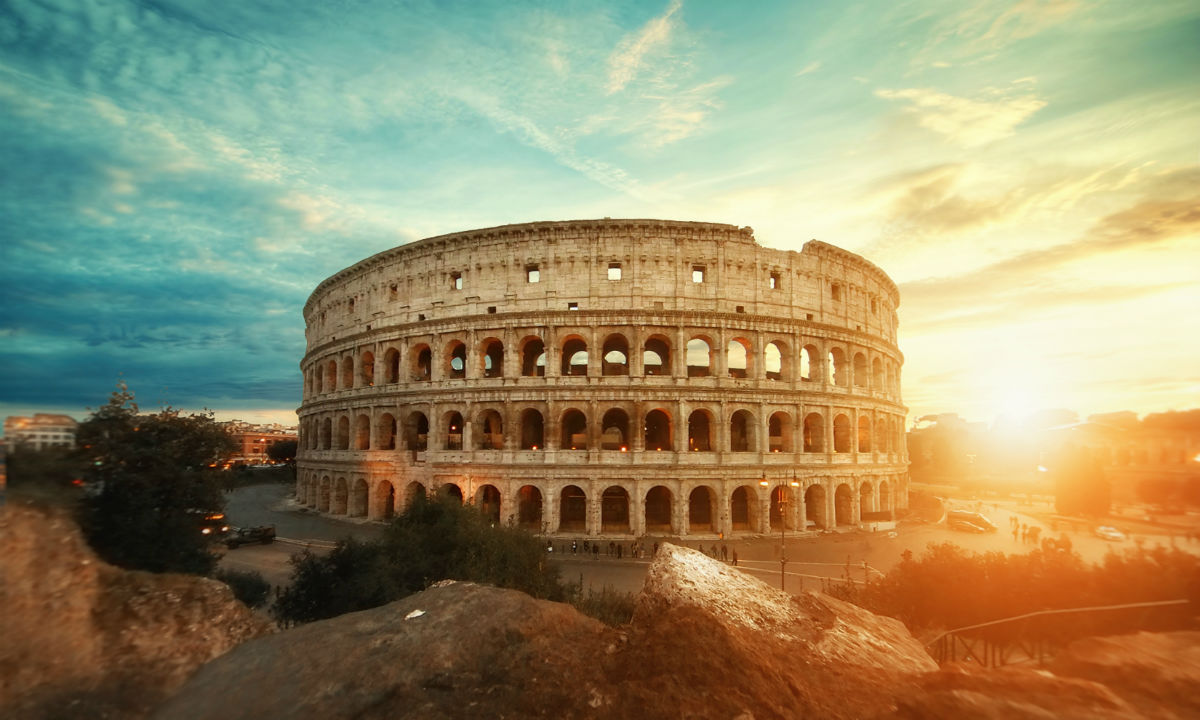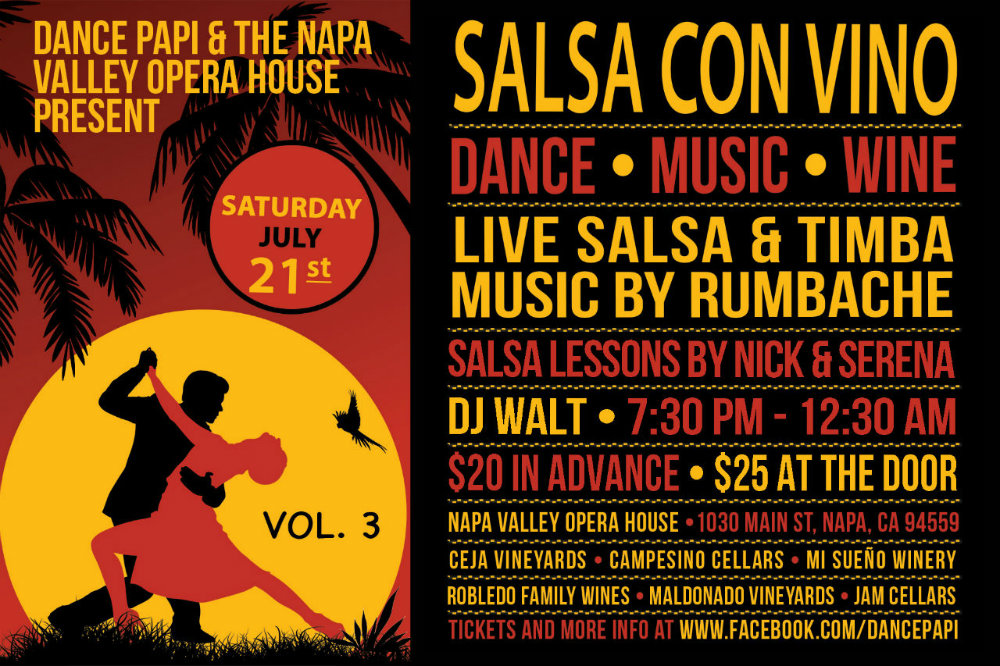 Dance Papi and the Napa Valley Opera House present "Salsa Con Vino (Vol. 3)," a lively celebration of dance, music and wine on Saturday, July 21st. This community dance event includes live salsa and timba music by Rumbaché, salsa lessons by Nick and Serena and DJ Walt Digz to keep things hot on the dance floor.
7:30 pm | Doors Open
8:00 pm - 8:45 pm | Salsa Lesson by Nick & Serena
8:45 pm - 10:45 pm | Live Salsa & Timba Music by Rumbaché
11:00 pm - 12:30 am | DJ Walt Digz
Tickets:
$20 in advance online
$25 at the door
Napa Valley Opera House
1030 Main St
Napa, CA 94559
21+ with ID
Wine, Beer & Cocktails Available for Purchase
Dress: Casual & Mature
No Baseball Hats or Sports Jerseys
Live Salsa & Timba Music by Rumbaché:
Rumbaché has established themselves as one of the hottest Bay Area Salsa Bands! Fusing salsa, timba, bomba, funk and whatever else they can find to spice up the mood, they provide a hard hitting style of playing. And while you can hear them interpreting the classic and contemporary Cuban and Salsa repertoire, they are not shy with their own expression, as evidenced by their hit debut CD "Llego La Fiesta", released in April of 2011. Rumbaché is the voice of youth for San Francisco's Salsa & Timba scene, and ignites enthusiasm in dancers and musical connoisseurs alike.
Salsa Lessons by Nick & Serena:
Nicholas Van Eyck and Serena Wong are the founders and directors of Salsa Vale Todo: the premier Bay Area Cuban salsa dance group. Dancing professionally since 2000, this dynamic duo have taught and performed at salsa congresses, festivals and cruises throughout the US and internationally. Nick and Serena are also the organizers of the famed San Francisco Salsa Rueda Festival that takes place every February and the historic Hotel Whitcomb.
DJ Walt Digz:
For over a decade DJ Walt Digz has been one of the most requested salsa, timba and reggaeton DJs in Northern California. Walt Digz's great song selections, mixing skills and ability to elevate the mood of any dance venue keeps him in heavy rotation at numerous Bay Area clubs and dance festivals.
About the Winery Partners:
- Ceja Vineyards is an ultra-premium Latino family owned winery founded by Amelia, Pedro, Armando and Martha Ceja – first generation Mexican-American winegrowers in the Napa and Sonoma Valleys.
- Campesino Cellars produces Rhone style wines from select single vineyards in California. Their wines are not only a reflection of those who tend the vineyards, but they also express the qualities inherited from their site specific locations.
- Mi Sueño, which translates to "my dream," is a micro-production winery that produces high-end wines from both the Napa and Sonoma valleys. Founded in 1997 by Mexican immigrant Rolando Herrera, it has grown from 200 cases of Chardonnay annually to its current production of approximately 8,000 cases.
- Robledo Family Winery produces a diversified portfolio of ultra-premium wines from Sonoma, Napa and Lake Counties. A member of the Robledo family is on hand to greet you as you enter their tasting room and will proudly share their family's' journey to achieving the "True American Dream".
- Maldonado Family Vineyards is a small-production winery located in Calistoga, a beautifully quaint town in the Napa Valley. In 1961 Lupe Maldonado moved to California from the small farming community of Atacheo, Michoacan, Mexico. In 1998, Lupe bought and developed a 10-acre vineyard in Napa. His son Hugo, a graduate in Viticulture and Enology from the UC Davis, now oversees the making of their limited production wines.
About the Promoter:
Dance Papi is the best place on the web to learn salsa and hand percussion online for free. Like Dance Papi's facebook page for updates on future events: facebook.com/dancepapi