Beans and wine you ask? Well, here at Ceja we get down and grub on the nontraditional food and wine pairings…and why not? Growing up in a Mexican household, beans, tortillas and rice have been a staple of ours since I can remember. They have also played a stereotypical role in American culture that have downgraded the authenticity of beans giving them a bastardized symbol of a poor mans Tex-Mex meal. I happen to think otherwise.
I have been cooking alongside my mom since I was a little girl. I remember standing on a stool next to the kitchen counter using both hands to stir the pot of arroz con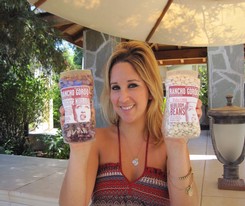 leche or Mexican hot chocolate, as tantalizing smells of cinnamon and sweetness infiltrated our kitchen. From that moment on I knew that food would always play an integral role in my life where wine would slowly make its grand entrance down the road.
However, given that I come from a huge extended family, fiestas and gatherings were always a prominent excuse to bring the goods to the table: homemade tamales, chiles rellenos, sopes, enchiladas, salsas, flan and so much more. Funny enough, there was as much food on the table as there was wine. Yep, more wine than beer or margaritas.
Now, when it comes to pairing wine with Mexican food, the most important rule to remember is to just drink and eat what you like! Although this rings true for many of us, there are some Mexican dishes that just plain taste better with certain wines. Here are some of my foolproof combinations that I absolutely love (all dishes are available under the recipes tab on our website).
*Mole Negro de Oaxaca paired with Ceja Syrah
*Salmon Ceviche paired with Ceja Pinot Noir
*Camarones a la Dalia paired with Ceja Chardonnay
Stay tuned for weekly mouthwatering recipes that will leave you begging for more…
¡Ole!
Dalia Ceja

It's pizza time folks! Dalia Ceja, Sales & Marketing Manager at Ceja Vineyards shares one of her favorite pizza incarnations made with fresh and zesty ingredients. Paired with Ceja Vineyards Vino de Casa Red Blend, this delectable dish will have you singing "Mozzarella!"

Try something new with one of Dalia Ceja's exciting new culinary creations - a savory open face sandwich with golden baked cinnamon bread topped with spicy jalapeño pepper jack cheese. Pair it with a glass of Ceja Chardonnay and you're on your way to a sensory epiphany!

Who new a bottle of Ceja Pinot Noir could be the perfect travelling Gnome? Dalia Ceja talks about her trip to South America she recently went on along with her trusted vino. Both Dalia and bottle embarked many adventures. Enjoy!

Argentina lives! Inspired by her recent trip to Argentina, Dalia Ceja cooks up some delicious spicy empanadas. In this video the filling of choice is chicken but feel free to use whatever you like. ¡Que bárbaro!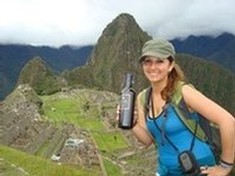 2010 has already proved to be an exciting year for me and my traveling gnome – a bottle of sexy Ceja wine. Traveling has always been an addiction and a passion in my life so last year I embarked on a five month backpacking journey to South America, exploring 5 different countries with my best friend Katie, a bottle of Ceja wine and our crazy imaginations. Unfortunately, the bottle of our 06' Red VDC only lasted until Peru, where we thirstfully enjoyed it sitting in the magical ruins of Machu Picchu. Quite appropriate don't you think? From that moment on, I decided that anywhere else I traveled in this world I would take along my little traveling companion and represent Ceja bringing on interesting adventures, sometimes strange looks, but always good luck!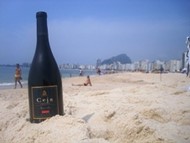 My most recent trip to Brazil and Argentina proved to be very enlightening and unforgettable. I spent the first part of three weeks in Rio where I celebrated the New Year on the beaches of Copacabana dancing to Samba music in a sea of two million people dressed in white (as a symbol for luck and peace), while the starry skies illuminated with thousands of fireworks. Besides the cheers from the crowd, the thunderous pop of thousands of Champagne bottles reverberated through to our souls. It was beautiful to see that even sparkling wine could be appreciated in the hot and tropical parts of the world. After all, bubbly is the sweet nectar in life and I never need a reason to drink it...enough said.
The next several days in my beloved Rio were spent marveling over the gorgeous beaches that surround the city while educating my palate with the variety of passion fruits, juices and baked delights that were available at every corner. Considering the heat and humidity of Rio I thought it best not to open the bottle of Ceja wine until a more suitable setting presented itself; the cool and seductive metropolis of Buenos Aires struck a chord.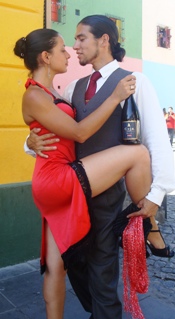 Leaving behind the beaches and intense heat, I found myself excited to return to Buenos Aires, a city that never sleeps and is alive with Tango, wine and the delicious Argentine gastronomy. I spent a lot of time in Buenos Aires last year but I was determined to revisit and explore the city with the intensity of a Porteño (a local) and not a tourist. I would wake up in the mornings and go for walks through the old streets of San Telmo, a charming and colonial part of the city and would stop at a local cafés and sip espresso paired with yummy breakfast empanadas - my favorites being jamon y queso or carne con cebolla. Mmmm…I can almost taste the fresh baked empanadas right out of the oven.
I was on a mission to seek new adventures and find the hidden treasures of such a fascinating city. One gorgeous afternoon, a group of lovely hostel friends and I decided to explore La Boca barrio which is known for its colorful houses and street tango. En route, we encountered a Porteño who informed us that La Boca tended to be a bit dodgy and that we should keep a watchful eye on our belongings. I was not too worried though as we'd be visiting in the middle of the day. Besides, my trusty gnome was on-hand to protect us should any debauchery arise! In the end, my risky curiosity paid off as we descended upon La Boca and had a magical time.
Tango and wine anyone? Tango has to be one of the sexiest and most sensual dances in the world and this charming duo happily agreed to strike a pose with my little gnome. Hot right? I found the colors of these old houses to be quite striking and couldn't resist having them as my backdrop.
The rest of the week passed by too fast and finally the day came that I turned 25. Yep, I turned a quarter century in the midst of my South American travels. My Birthday could not have been more memorable. Surrounded by good food, marvelous friends and Ceja wine…what more could one ask for? We ate, laughed, danced and lived in the moment...we conquered Buenos Aires that evening.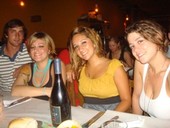 Celebrating the New Year in Rio and turning 25 in Buenos Aires was a dream. As I write this I am flooded with all the delicious memories from the trip that will live with me forever. I am also reminded of my own philosophy in life: live your passions. Now, I ask you, are you living your passions? If not, I invite you to spread your wings, open a bottle of wine and ponder what your passions in life are and live them.
Until the next adventure amigos…
Besos,
Dalia

Liz Mazzei, winner of Ceja Vineyards' "Facebook Recipe Entry Contest", joins Dalia Ceja at the Ceja Vineyards' kitchen to present her winning dish of California Chicken Noodle Soup. The two gals cook and drink their way through this delicious presentation!

Adding sweet potato to the classic pancake mix is a great way to liven up your breakfast meal!

Join Dalia Ceja as she makes her cooking debut! "Camarones a la Dalia" is an easy and succulent dish to prepare that is sure to impress all your guests. Pair this delicacy with Ceja Vineyards' Carneros Chardonnay and we promise you'll be the talk of the town!

Dalia Ceja talks about the history of Ceja Vineyards.