Beans and wine you ask? Well, here at Ceja we get down and grub on the nontraditional food and wine pairings…and why not? Growing up in a Mexican household, beans, tortillas and rice have been a staple of ours since I can remember. They have also played a stereotypical role in American culture that have downgraded the authenticity of beans giving them a bastardized symbol of a poor mans Tex-Mex meal. I happen to think otherwise.
I have been cooking alongside my mom since I was a little girl. I remember standing on a stool next to the kitchen counter using both hands to stir the pot of arroz con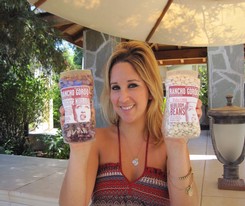 leche or Mexican hot chocolate, as tantalizing smells of cinnamon and sweetness infiltrated our kitchen. From that moment on I knew that food would always play an integral role in my life where wine would slowly make its grand entrance down the road.
However, given that I come from a huge extended family, fiestas and gatherings were always a prominent excuse to bring the goods to the table: homemade tamales, chiles rellenos, sopes, enchiladas, salsas, flan and so much more. Funny enough, there was as much food on the table as there was wine. Yep, more wine than beer or margaritas.
Now, when it comes to pairing wine with Mexican food, the most important rule to remember is to just drink and eat what you like! Although this rings true for many of us, there are some Mexican dishes that just plain taste better with certain wines. Here are some of my foolproof combinations that I absolutely love (all dishes are available under the recipes tab on our website).
*Mole Negro de Oaxaca paired with Ceja Syrah
*Salmon Ceviche paired with Ceja Pinot Noir
*Camarones a la Dalia paired with Ceja Chardonnay
Stay tuned for weekly mouthwatering recipes that will leave you begging for more…
¡Ole!
Dalia Ceja

Amelia Ceja pairs four of her favorite cheeses from around the world with wines from Ceja Vineyards. Humbolt Fog, Petit Basque, Mimolette and Cambozola take center stage!

Paella is a Valencian rice dish that originated in its modern form in the mid-19th century near lake Albufera, a lagoon in Valencia, on the east coast of Spain. Many non-Spaniards view paella as Spain's national dish, but most Spaniards consider it to be a regional Valencian dish. Valencians, in turn, regard paella as one of their identifying symbols. In this video Amelia Ceja prepares Paella Mixta, a free-style combination of meat, seafood, vegetables and beans.

It's pizza time folks! Dalia Ceja, Sales & Marketing Manager at Ceja Vineyards shares one of her favorite pizza incarnations made with fresh and zesty ingredients. Paired with Ceja Vineyards Vino de Casa Red Blend, this delectable dish will have you singing "Mozzarella!"

Mother and daughter duo, Amelia and Dalia Ceja, create traditional corn tacos of chicken and potato with a spicy fire roasted salsa.

Try something new with one of Dalia Ceja's exciting new culinary creations - a savory open face sandwich with golden baked cinnamon bread topped with spicy jalapeño pepper jack cheese. Pair it with a glass of Ceja Chardonnay and you're on your way to a sensory epiphany!

Argentina lives! Inspired by her recent trip to Argentina, Dalia Ceja cooks up some delicious spicy empanadas. In this video the filling of choice is chicken but feel free to use whatever you like. ¡Que bárbaro!

The Ceja family and Ceja Vineyards staff get together to ask the viewer one simple question - when's the last time you had Ceja wine?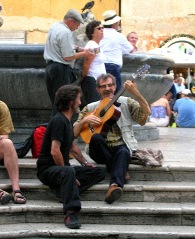 It was during my last trip to Italy while walking through Rome in the Piazza della Rotonda with its fountain and the Pantheon both in view, that I and a couple of very dear friends decide to take a break from our sight seeing and stop for lunch.
A little café with tables sitting on the Piazza would allow us to keep our spectacular view while dining. Two men were sitting on the steps to the fountain singing in Italian, one clutching his guitar as it rested on his leg, the other slapping on his knees to keep the beat. It was one of those moments in time that you want to last forever.
We ordered an antipasto tray of local favorites, a traditional Roman pizza and some cured olives. To drink we ordered a carafe of the house white wine. It was not an overly complex wine yet it had good aromatic qualities of fresh pear and wild flowers with crisp minerality on the pallet. A Pinot Grigio I thought, but that was not important.
As the wine geek (that's me), the Chef and the Fashionista all sat enjoying this simple lunch with the house wine, we were amazed at how all the flavors came together. While ordering we had decided that we would be drinking white so our menu choices were skewed in that direction. We had a hunch, however, that any dish we ordered would have paired quite nicely with the white vino della casa.
This would be a common thread in our dinning experiences throughout the rest of the trip. The local cuisine with the wines of the region would continually blow us away with how perfectly the flavors complemented each other.
Were the winemakers crafting a style of wine to complement the local cuisine or were the chefs creating dishes to complement the style of the regional wine?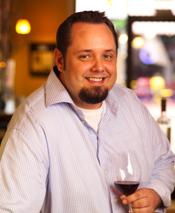 I think it's a little bit of both, but this was not done specifically for me on this trip. Nor was the Chef and Sommelier conspiring to supply these three random tourists with a perfect food and wine pairing at the cafe. It's quite clear that wine has a rich history in serving as an accompaniment to food. When wine first entered the scene, it was often safer to drink than the local water supply with little thought given to it as a "sensory enhancing" beverage. Over time though, as regional cuisine and local wine-making traditions developed, gastronomy emerged as link between culture, food and drink. This is true wherever you travel or whatever style of cuisine you are enjoying: bratwurst and sauerkraut with a dry German Riesling, thinly sliced Serrano ham with a glass of bone dry fino sherry or boeuf bourguignon with a red Burgundy.
Next time you visit your favorite restaurant or travel abroad, select a wine that comes from the same region as your dish and you will be pleasantly surprised how well they conspire to pair beautifully together.

Liz Mazzei, winner of Ceja Vineyards' "Facebook Recipe Entry Contest", joins Dalia Ceja at the Ceja Vineyards' kitchen to present her winning dish of California Chicken Noodle Soup. The two gals cook and drink their way through this delicious presentation!