Saturday, August 10th, 2019
5:00 p.m. - 9:00 p.m.
$150 per person - $125 per person for club members
Join Ceja Vineyards for our 18th anniversary fiesta and lobster feast! Dine al fresco in the middle of our gorgeous Chardonnay vineyard. Enjoy tinga de res (shredded beef) tostada appetizers, play in a bocce tournament and dance under the stars with music provided by our resident DJ + more!
Main Course
Fresh Maine lobster, prawns, corn, roasted garlic, artichokes, red potatoes, Louisiana hot links (all beef), fresh sourdough baguette, drawn butter
Dessert
It's-It Ice Cream Sandwiches
SEATING IS LIMITED - GET YOUR TICKETS SOON! This event is by reservation only. Tickets must be purchased prior to event. We cannot accomodate walk-ins.
This is event is for attendees 21 years old and over.
Email ariel@cejavineyards.com for more information or call (707) 255-3954.
---
Wine Club members enjoy discounted tickets, great deals on wines and more fun events like this one. Join our Wine Club family today.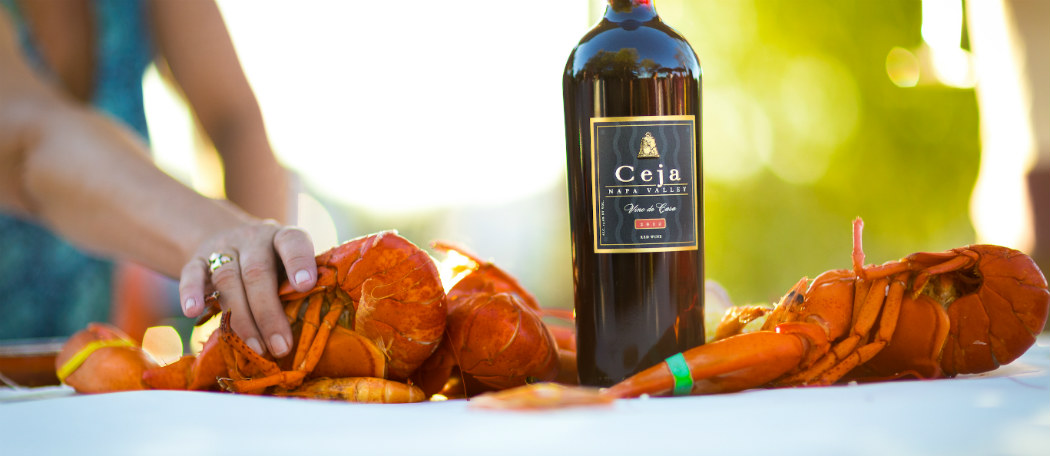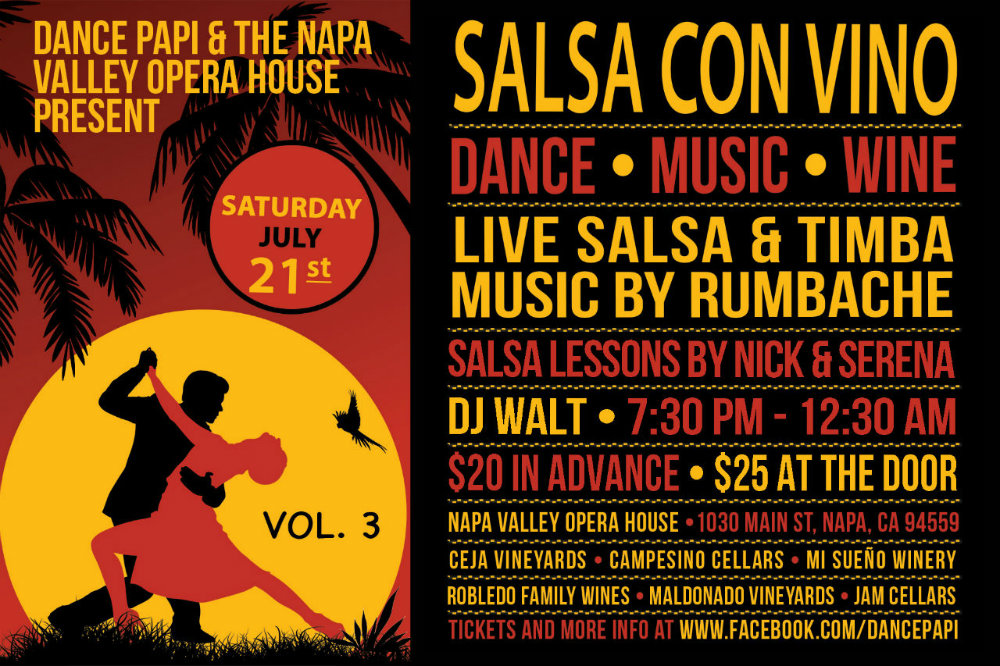 Dance Papi and the Napa Valley Opera House present "Salsa Con Vino (Vol. 3)," a lively celebration of dance, music and wine on Saturday, July 21st. This community dance event includes live salsa and timba music by Rumbaché, salsa lessons by Nick and Serena and DJ Walt Digz to keep things hot on the dance floor.
7:30 pm | Doors Open
8:00 pm - 8:45 pm | Salsa Lesson by Nick & Serena
8:45 pm - 10:45 pm | Live Salsa & Timba Music by Rumbaché
11:00 pm - 12:30 am | DJ Walt Digz
Tickets:
$20 in advance online
$25 at the door
Napa Valley Opera House
1030 Main St
Napa, CA 94559
21+ with ID
Wine, Beer & Cocktails Available for Purchase
Dress: Casual & Mature
No Baseball Hats or Sports Jerseys
Live Salsa & Timba Music by Rumbaché:
Rumbaché has established themselves as one of the hottest Bay Area Salsa Bands! Fusing salsa, timba, bomba, funk and whatever else they can find to spice up the mood, they provide a hard hitting style of playing. And while you can hear them interpreting the classic and contemporary Cuban and Salsa repertoire, they are not shy with their own expression, as evidenced by their hit debut CD "Llego La Fiesta", released in April of 2011. Rumbaché is the voice of youth for San Francisco's Salsa & Timba scene, and ignites enthusiasm in dancers and musical connoisseurs alike.
Salsa Lessons by Nick & Serena:
Nicholas Van Eyck and Serena Wong are the founders and directors of Salsa Vale Todo: the premier Bay Area Cuban salsa dance group. Dancing professionally since 2000, this dynamic duo have taught and performed at salsa congresses, festivals and cruises throughout the US and internationally. Nick and Serena are also the organizers of the famed San Francisco Salsa Rueda Festival that takes place every February and the historic Hotel Whitcomb.
DJ Walt Digz:
For over a decade DJ Walt Digz has been one of the most requested salsa, timba and reggaeton DJs in Northern California. Walt Digz's great song selections, mixing skills and ability to elevate the mood of any dance venue keeps him in heavy rotation at numerous Bay Area clubs and dance festivals.
About the Winery Partners:
- Ceja Vineyards is an ultra-premium Latino family owned winery founded by Amelia, Pedro, Armando and Martha Ceja – first generation Mexican-American winegrowers in the Napa and Sonoma Valleys.
- Campesino Cellars produces Rhone style wines from select single vineyards in California. Their wines are not only a reflection of those who tend the vineyards, but they also express the qualities inherited from their site specific locations.
- Mi Sueño, which translates to "my dream," is a micro-production winery that produces high-end wines from both the Napa and Sonoma valleys. Founded in 1997 by Mexican immigrant Rolando Herrera, it has grown from 200 cases of Chardonnay annually to its current production of approximately 8,000 cases.
- Robledo Family Winery produces a diversified portfolio of ultra-premium wines from Sonoma, Napa and Lake Counties. A member of the Robledo family is on hand to greet you as you enter their tasting room and will proudly share their family's' journey to achieving the "True American Dream".
- Maldonado Family Vineyards is a small-production winery located in Calistoga, a beautifully quaint town in the Napa Valley. In 1961 Lupe Maldonado moved to California from the small farming community of Atacheo, Michoacan, Mexico. In 1998, Lupe bought and developed a 10-acre vineyard in Napa. His son Hugo, a graduate in Viticulture and Enology from the UC Davis, now oversees the making of their limited production wines.
About the Promoter:
Dance Papi is the best place on the web to learn salsa and hand percussion online for free. Like Dance Papi's facebook page for updates on future events: facebook.com/dancepapi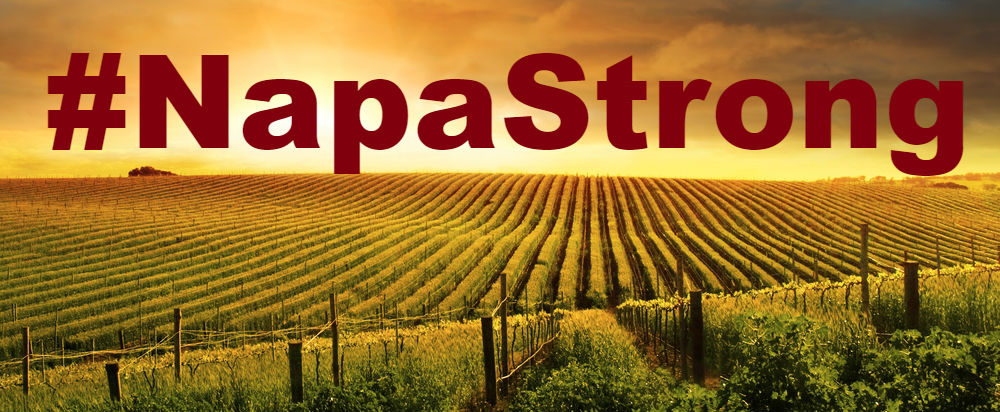 Dear Friends & Family of our Wine Country Community,
On behalf of the whole Ceja Vineyards team, our thoughts and prayers are with those affected by the devastating North Bay wildfires. Thank you so much for your encouraging messages over the past three days. Your words of concern and kindness have been beyond heart-warming for us during this difficult time.
We are relieved and thankful to share with you that our team and families are safe. Our buildings and vineyards have also been miraculously spared.
The news throughout our beloved wine valleys is heartbreaking. We are incredibly grateful to the brave firefighters and first responders working day and night to keep us and our loved ones safe.
Ceja Vineyards is regrouping and we will be announcing a benefit soon to support those affected when the ash settles.
If you'd like to help, please consider donating to organizations that are on the ground working tirelessly to support those affected. Some include:
Napa Valley Community Foundation (NVCF) Disaster Relief Fund
Redwood Credit Union (RCU) Community Fund
100% of your donations will go directly to assist those affected by the fires.
Thank you again for your support, compassion, and kindness.
Sincerely,
The Ceja Vineyards Team


Ceja Vineyards is Heading to Alaska
7-Night Inside Passage Cruise to Alaska Aboard Celebrity Solstice
Sailing from Seattle, Washington on June 16, 2017
Ports include: Ketchikan, Tracy Arm Fjord, Juneau, Skagway, Victoria, British Columbia
Veranda cabins from: $1,994*
Price Includes complimentary Classic Beverage Package, including wine by the glass, spirits and non-alcoholic beverages valued at $454 per person.
Enjoy these private Ceja Vineyards events with Amelia Ceja:
• Welcome aboard wine reception
• Exclusive wine pairing luncheon with Amelia Ceja in Tuscan Grille
• Private Sommelier tour of the two-story glass wine tower
• Behind-the-scenes tour of Celebrity's culinary operations
• 1 hour wine tasting featuring wines from Ceja Vineyards
• 1 hour cooking demonstration paired with Ceja wine
• Farewell cocktail and Salsa Fiesta with DJ
To book this exclusive wine cruise, or for more information contact:
Patty Hoey at AAA Travel
707-252-5619 • Patty.Hoey@goAAA.com

Check out this amazing AJ+ video featuring our favorite Pozole recipe narrated by Amelia Ceja in a new series titled American Thanksgiving! What's on your dinner table this Thanksgiving?
American Thanksgiving With Pozole

American Thanksgiving tables are as diverse as America's people. Amelia Moran Ceja of Ceja Vineyards shares with us why Pozole makes it onto her table every year:

Posted by AJ+ on Monday, November 23, 2015

Update on the 2011 Harvest from the Napa Valley Vintners, featuring our very own Armando Ceja! Very informative and beautiful video. Enjoy!
The Napa Valley Vintners is the non-profit trade association responsible for promoting and protecting the Napa Valley appellation as the premier winegrowing region.

Bay Area photographer Lianne Milton was gracious enough to allow us to post some photos she had taken from a nighttime harvest shot in October of 2009. Please enjoy!

Night Harvest - Images by Lianne Milton

The Ceja family and Ceja Vineyards staff get together to ask the viewer one simple question - when's the last time you had Ceja wine?

Our awesome friends at Greencard Creative produced this great video. Who else wants Ceja wine?!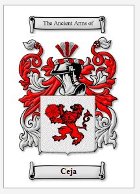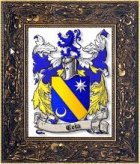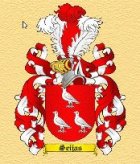 A family crest, also known as a coat of arms, is the expression of a family's pride and aspirations; it is a graphical display of a family name history. While perusing the internet and doing research on the Ceja name, I found the Ceja family Crest in three styles as well as information on the origin of the Ceja name.
Purportedly, the Ceja name comes from Galicia in Northern Spain. This area has strong Celtic roots and in fact shares many Celtic traditions with Ireland and Scotland. The first reference to the Cejas was in 1387 in the small village of Friol, in the province of Lugo in Galicia. More references to the name were made in Brates near the Northern coast. There were several spellings of the name, and it was pronounced in the Galego language (Galician). Don Vasco Gomez das Seixas (Cejas) was a communal leader in those times, an important leader who oversaw several communities during his reign. Other spellings of Ceja are: Aceijas, Azexas, Aseixas, Acejas, Acexas, Azeixas, Sejas, Seixas and Xexas. The surname also spread to Portugal and to the Canary Islands where they were known as "Cejas," "Seijas" or "Sejas."
Spain was a great sea power and one of their major ports was Vigo, on the western edge of Galicia. Most likely the first Cejas probably left from this port to the New World. Although it is not certain of the date that the name Ceja appeared in the New World, the earliest reference to a Ceja was in the mid 17th century in the state of Guanajuato in Mexico. Guanajuato borders the state of Michoacan where the Ceja family of Ceja Vineyards originated from before immigrating to the United States in the 1960s.