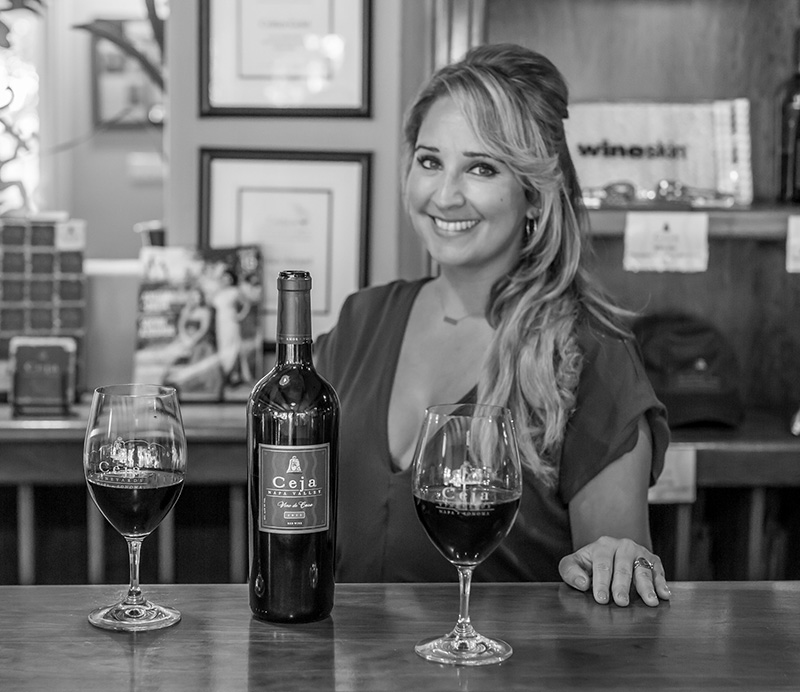 Last week I was honored to share my story with Cru Podcast - Stories from The People Behind the Wine! I had a blast chatting with founder, Chappy Cottrell, about my career, passion projects, family story and much, much more!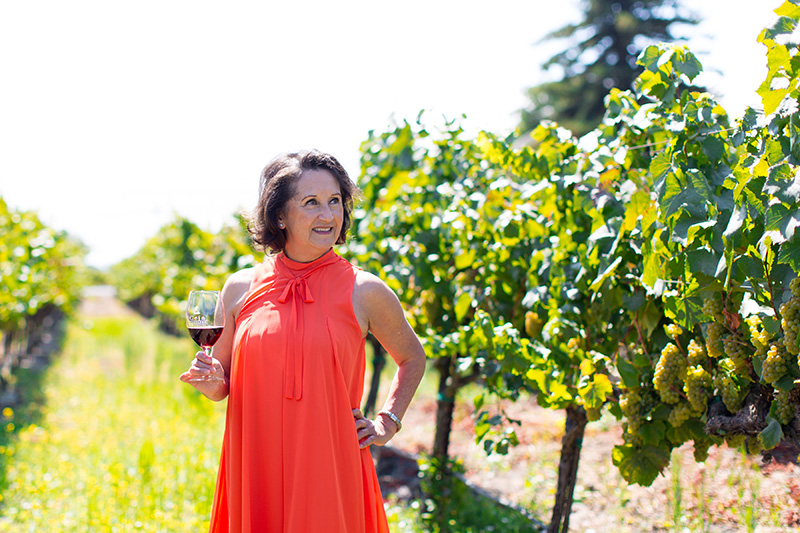 Behind the Vines: Meet Amelia Morán Ceja, President & Founder
Her philosophy: Amelia Morán Ceja reveals her conviction that the diligent pursuit of a passion is key to success. She notes, "My grandmother told me, whatever you do, if you love it and learn everything you can about it, you will always be successful."
Amelia's love affair with food started in Las Flores, Jalisco, Mexico, where she began cooking on her own at the age of eight in the farm kitchen of a strong maternal grandmother. "Mamá Chepa" taught Amelia to cook with fresh, home grown ingredients. When Amelia joined her father, Felipe Morán, in Rutherford in 1967, Amelia threw herself into her new world. On her first weekend in the Napa Valley, Amelia was in the vineyard, harvesting with a knife that seemed half the size of the petite 12-year old.
Along with her key roles at Ceja Vineyards, some of her other passions include social justice causes and giving back to the community. She's the recipient of the 2016 Dolores Huerta Farmworker Justice Award and she's honored to share her story as the Keynote Speaker at the upcoming MLK Monday Community Celebration. Join her for a community gathering celebrating the life of Dr. Martin Luther King while continuing his legacy through a day of action and compassion.
MLK Monday Community Celebration Event - Everyone is Welcome!
When: Monday, January 16th, 2017
Where: St. John the Baptist Catholic Church
Address: 960 Caymus St, Napa Ca 94559
Time: 7pm
Cost: Free

Photo by Sarah Deragon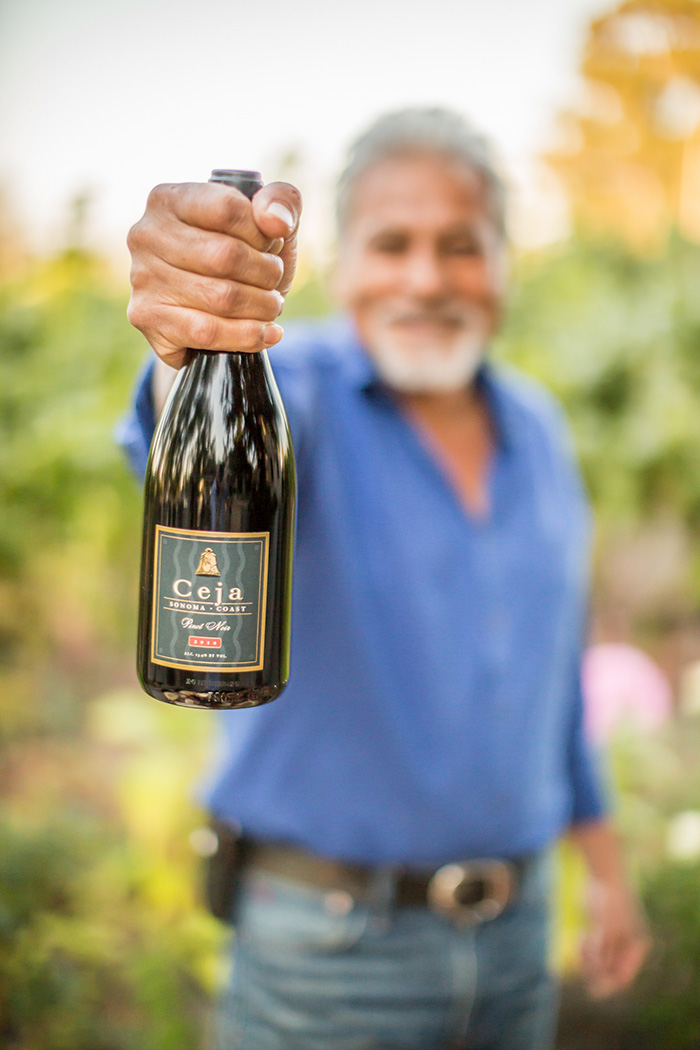 Behind The Vines: Meet Armando Ceja, Winemaker
His philosophy: "Making wine is more like making preserves than jam," he says; he favors preserving bright fruit over highly-extracted flavors and high alcohol because it creates wines that stay balanced, youthful and vibrant.
Armando made his first wine when he was 17 years old. He jumped at the offer of a free lot of Duckhorn Vineyards Cabernet Sauvignon grapes turning it into his first vintage. After earning an associate degree in chemistry, he graduated in 1985 from UC Davis with a BS in Enology. From there, he worked at Kenwood Vineyards in both winemaking and vineyard management before joining the management team at the Christian Brothers winery on Mt. Veeder. His experience as a viticulturist and enologist continued to thrive from there.
Balance and perspective is key for him as a winemaker. "I know my roots," says Armando. "I enjoy being with my crew and I enjoy being with other winemakers. I am who I am. My job is to ensure that the fermentation is going clean and that the things that make good wine are in place. The biggest compliment is when someone says, 'I had a glass of your wine. I really enjoyed it.'

In honor of Hispanic Heritage Month, Amelia and Dalia Ceja were selected to be featured on NBC Latino. We're grateful to our family and friends for the continued support.

Mission San Francisco Solano has a controversial past that includes grape growing and winemaking. Dalia Ceja highlights the emergence of this landmark.
Mission San Francisco Solano was the 21st, last and northernmost mission in Alta California. It was the only mission built in Alta California after Mexico gained independence from Spain.
The Mission was successful given its short eleven year life but was smaller in number of converts and with lower productivity and diversity of industries than the older California missions.
The mission building is now part of the Sonoma State Historic Park and is located in the city of Sonoma, California.


Ceja Vineyards is Heading to Alaska
7-Night Inside Passage Cruise to Alaska Aboard Celebrity Solstice
Sailing from Seattle, Washington on June 16, 2017
Ports include: Ketchikan, Tracy Arm Fjord, Juneau, Skagway, Victoria, British Columbia
Veranda cabins from: $1,994*
Price Includes complimentary Classic Beverage Package, including wine by the glass, spirits and non-alcoholic beverages valued at $454 per person.
Enjoy these private Ceja Vineyards events with Amelia Ceja:
• Welcome aboard wine reception
• Exclusive wine pairing luncheon with Amelia Ceja in Tuscan Grille
• Private Sommelier tour of the two-story glass wine tower
• Behind-the-scenes tour of Celebrity's culinary operations
• 1 hour wine tasting featuring wines from Ceja Vineyards
• 1 hour cooking demonstration paired with Ceja wine
• Farewell cocktail and Salsa Fiesta with DJ
To book this exclusive wine cruise, or for more information contact:
Patty Hoey at AAA Travel
707-252-5619 • Patty.Hoey@goAAA.com

Check out this amazing AJ+ video featuring our favorite Pozole recipe narrated by Amelia Ceja in a new series titled American Thanksgiving! What's on your dinner table this Thanksgiving?
American Thanksgiving With Pozole

American Thanksgiving tables are as diverse as America's people. Amelia Moran Ceja of Ceja Vineyards shares with us why Pozole makes it onto her table every year:

Posted by AJ+ on Monday, November 23, 2015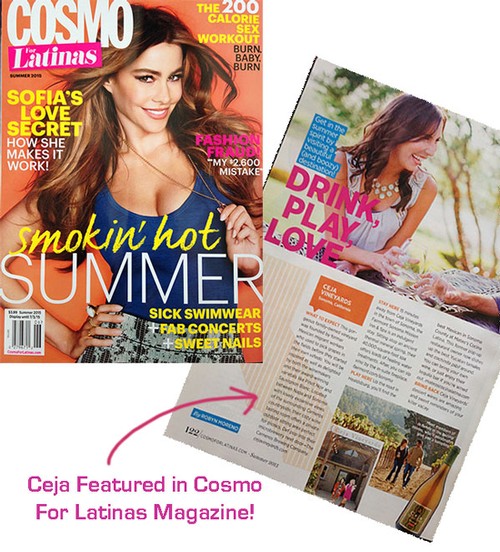 Two Words: Latinas Rock.
We are over the moon to be featured in Cosmo for Latinas Magazine summer issue featuring Ceja as their top summer wine tasting destination in Sonoma!

"This gorgeous family-owned vineyard was founded by former Mexican migrant workers who used to pick grapes in the fields before they started their own vinedo. You will be inspired as well as delighted by both the winemakers and their award winning varietals like Pinot Noir and Sauvignon Blanc..."

The May/June issue with Sofia Vergara is on stands now - pick up a copy today!
Besos,
Dalia x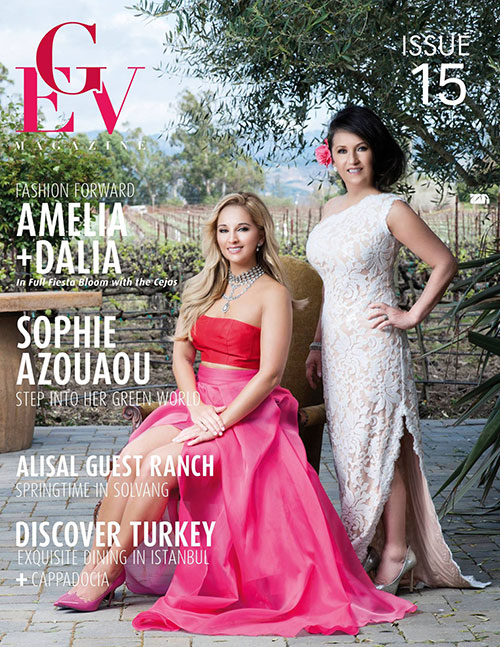 HOT OFF THE DIGITAL PRESS!
Please check out GEV Magazine's spring fashion cover featuring my mom and me for their first mother-daughter editorial. In this feature, read about Ceja Vineyards excitement around the combination of wine, women, food, fashion and fiestas. I would like to send a big shout out and thank you to the entire Gastronomique En Vogue Magazine team + Glam squad for bringing their vision to life. Please share with your family and friends!
Read full cover story HERE!
Besos,
Dalia


Lights.... Camera.... Action!
Go behind the scenes with the dynamic mother-daughter duo of Ceja Vineyards. Meet Dalia and Amelia Ceja as they share their passions of wine and food. Learn how to make Salmon Ceviche paired with Ceja Vineyards estate Pinot Noir and Chardonnay.
P.S. Click HERE to watch more food and wine pairing videos from the Ceja ladies!