Update on the 2011 Harvest from the Napa Valley Vintners, featuring our very own Armando Ceja! Very informative and beautiful video. Enjoy!
The Napa Valley Vintners is the non-profit trade association responsible for promoting and protecting the Napa Valley appellation as the premier winegrowing region.

Footage of the Ceja vineyard crew hard at work picking Chardonnay in the Carneros district of Napa for Ceja Vineyards' 2010 vintage.

Bay Area photographer Lianne Milton was gracious enough to allow us to post some photos she had taken from a nighttime harvest shot in October of 2009. Please enjoy!

Night Harvest - Images by Lianne Milton

Join Armando Ceja, wine-maker and grape grower for Ceja Vineyards, in the cellar as he tastes our yet-to-be-released 2010 Ceja Vineyards Napa Carneros Chardonnay.

In the early morning hours, winegrower and wine-maker Armando Ceja, takes a look back and reflects upon the latest growing season. Harvest is in full force in the background! Get ready for our 2010 Chardonnay!

Using the base pesto sauce she made in Part 1, Dalia Ceja creates three delectable dishes: sun-dried tomato and a bow-tie spicy cilantro pasta and Parmesan bruschetta. Dalia then pairs these tasty treats with Ceja Vineyards' Carneros Pinot Noir.

Dalia Ceja prepares homemade pesto in this episode. The flavors are savory and tangy. Ceja Vineyards Vino de Casa Red Blend is called upon to liven things up!

Beans and wine you ask? Well, here at Ceja we get down and grub on the nontraditional food and wine pairings…and why not? Growing up in a Mexican household, beans, tortillas and rice have been a staple of ours since I can remember. They have also played a stereotypical role in American culture that have downgraded the authenticity of beans giving them a bastardized symbol of a poor mans Tex-Mex meal. I happen to think otherwise.
I have been cooking alongside my mom since I was a little girl. I remember standing on a stool next to the kitchen counter using both hands to stir the pot of arroz con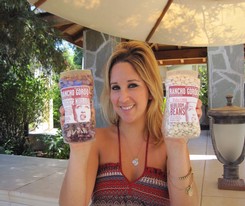 leche or Mexican hot chocolate, as tantalizing smells of cinnamon and sweetness infiltrated our kitchen. From that moment on I knew that food would always play an integral role in my life where wine would slowly make its grand entrance down the road.
However, given that I come from a huge extended family, fiestas and gatherings were always a prominent excuse to bring the goods to the table: homemade tamales, chiles rellenos, sopes, enchiladas, salsas, flan and so much more. Funny enough, there was as much food on the table as there was wine. Yep, more wine than beer or margaritas.
Now, when it comes to pairing wine with Mexican food, the most important rule to remember is to just drink and eat what you like! Although this rings true for many of us, there are some Mexican dishes that just plain taste better with certain wines. Here are some of my foolproof combinations that I absolutely love (all dishes are available under the recipes tab on our website).
*Mole Negro de Oaxaca paired with Ceja Syrah
*Salmon Ceviche paired with Ceja Pinot Noir
*Camarones a la Dalia paired with Ceja Chardonnay
Stay tuned for weekly mouthwatering recipes that will leave you begging for more…
¡Ole!
Dalia Ceja

Amelia Ceja pairs four of her favorite cheeses from around the world with wines from Ceja Vineyards. Humbolt Fog, Petit Basque, Mimolette and Cambozola take center stage!

As the summer weather warms up, grape grower and winemaker Armando Ceja talks about the progress of our Carneros chardonnay vineyard.